(Modified 2020-06-14: Added sermon audio)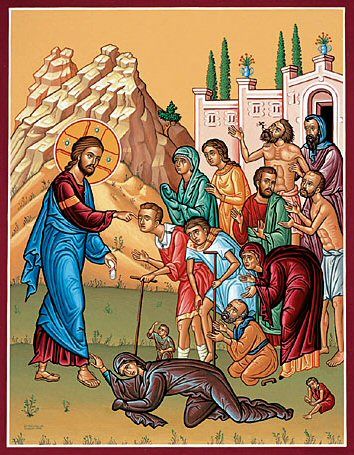 THE ORDER OF SERVICE FOR MORNING PRAYER
According to The Book of Common Prayer
Opening Hymn: Thy Hand O God Has Guided
Thy hand, O God, has guided
thy flock, from age to age;
their wondrous tale is written,
full clear, on every page;
thy people owned thy goodness,
and we their deeds record;
and both of this bear witness;
one Church, one Faith, one Lord.

Thy heralds brought glad tidings
to greatest as to least;
they bade men rise, and hasten
to share the great King's feast;
and this was all their teaching,
in every deed and word,
to all alike proclaiming
one Church, one Faith, one Lord.

When shadows thick were falling,
and all seemed sunk in night,
thou, Lord, didst send thy servants,
thy chosen sons of light.
On them and on thy people
thy plenteous grace was poured,
and this was still their message,
one Church, one Faith, one Lord.

Through many a day of darkness,
through many a scene of strife,
the faithful few fought bravely,
to guard the nation's life.
Their gospel of redemption,
sin pardoned, man restored,
was all in this enfolded:
one Church, one Faith, one Lord.

And we, shall we be faithless?
shall hearts fail, hands hang down?
shall we evade the conflict,
and cast away our crown?
Not so: in God's deep counsels
some better thing is stored;
we will maintain, unflinching,
one Church, one Faith, one Lord.

Thy mercy will not fail us,
nor leave thy work undone;
with thy right hand to help us,
thy victory shall be won;
and then, by all creation,
thy name shall be adored,
and this shall be their anthem:
one Church, one Faith, one Lord.
Sentence of Scripture
God is love; and he that abideth in love and abideth in God, and God in him. 1 St. John 4.16
The Minister
DEARLY beloved brethren, the Scripture moveth us in sundry places to acknowledge and confess our manifold sins and wickedness; and that we should not dissemble nor cloke them before the face of Almighty God our heavenly Father; but confess them with an humble, lowly, penitent, and obedient heart; to the end that we may obtain forgiveness of the same, by his infinite goodness and mercy. And although we ought at all times humbly to acknowledge our sins before God; yet ought we most chiefly so to do, when we assemble and meet together to render thanks for the great benefits that we have received at his hands, to set forth his most worthy praise, to hear his most holy Word, and to ask those things which are requisite and necessary, as well for the body as the soul.Wherefore I pray and beseech you, as many as are here present, to accompany me with a pure heart and humble voice unto the throne of the heavenly grace.
ALMIGHTY and most merciful Father, We have erred and strayed from thy ways like lost sheep, We have followed too much the devices and desires of our own hearts, We have offended against thy holy laws, We have left undone those things which we ought to have done, And we have done those things which we ought not to have done; And there is no health in us. But thou, O Lord, have mercy upon us, miserable offenders. Spare thou them, O God, which confess their faults. Restore thou them that are penitent; According to thy promises declared unto mankind in Christ Jesu our Lord. And grant, O most merciful Father, for his sake, That we may hereafter live a godly, righteous, and sober life, To the glory of thy holy Name. Amen.
For Pardon through the Cross.
ALMIGHTY Father, who of thy great love to men didst give thy dearly beloved Son to die for us; Grant that through his Cross our sins may be put away, and remembered no more against us, and that, cleansed by his Blood, and mindful of his sufferings, we may take up our cross daily, and follow him in newness of life, until we come to his everlasting kingdom; through the same thy Son Jesus Christ our Lord. Amen.
OUR Father who art in heaven, Hallowed be thy Name, Thy kingdom come, Thy will be done, on earth as it is in heaven. Give us this day our daily bread; And forgive us our trespasses, As we forgive them that trespass against us; And lead us not into temptation, But deliver us from evil. For thine is the kingdom, the power, and the glory, For ever and ever. Amen.
O Lord, open thou our lips;
And our mouth shall show forth thy praise
O God, make speed to save us;
O Lord, make haste to help us
GLORY be to the Father, and to the Son, and to the Holy Ghost;
As it was in the beginning, is now, and ever shall be, world without end. Amen.
Praise ye the Lord;
The Lord's Name be praised.
VENITE EXULTEMUS DOMINO. PSALM 95
O COME, let us sing unto the LORD: / let us heartily rejoice in the strength of our salvation.
Let us come before his presence with thanksgiving, / and show ourselves glad in him with psalms.
For the LORD is a great God, / and a great King above all gods.
In his hand are all the corners of the earth: / and the strength of the hills is his also.
The sea is his, and he made it: / and his hands prepared the dry land.
O COME, let us worship, and fall down, / and kneel before the LORD our Maker.
For he is the Lord our God; / and we are the people of his pasture, and the sheep of his hand.
GLORY be to the Father, and to the Son, / and to the Holy Ghost;
As it was in the beginning, is now, and ever shall be, / world without end. Amen.
THE FIRST LESSON: Exodus 19:2-8a
They had journeyed from Rephidim, entered the wilderness of Sinai, and camped in the wilderness; Israel camped there in front of the mountain. 3 Then Moses went up to God; the Lord called to him from the mountain, saying, "Thus you shall say to the house of Jacob, and tell the Israelites: 4 You have seen what I did to the Egyptians, and how I bore you on eagles' wings and brought you to myself. 5 Now therefore, if you obey my voice and keep my covenant, you shall be my treasured possession out of all the peoples. Indeed, the whole earth is mine, 6 but you shall be for me a priestly kingdom and a holy nation. These are the words that you shall speak to the Israelites." 7 So Moses came, summoned the elders of the people, and set before them all these words that the Lord had commanded him. 8 The people all answered as one: "Everything that the Lord has spoken we will do."
PSALM 100. Jubilate Deo.
O BE joyful in the LORD, all ye lands: / serve the LORD with gladness, and come before his presence with a song.
Be ye sure that the LORD he is God; / it is he that hath made us, and not we ourselves; we are his people, and the sheep of his pasture.
O go your way into his gates with thanksgiving, and into his courts with praise; / be thankful unto him, and speak good of his Name.
For the LORD is gracious, his mercy is everlasting; / and his truth endureth from generation to generation
THE SECOND LESSON: Romans 5:1-8
Therefore, since we are justified by faith, we have peace with God through our Lord Jesus Christ, 2 through whom we have obtained access to this grace in which we stand; and we boast in our hope of sharing the glory of God. 3 And not only that, but we also boast in our sufferings, knowing that suffering produces endurance, 4 and endurance produces character, and character produces hope, 5 and hope does not disappoint us, because God's love has been poured into our hearts through the Holy Spirit that has been given to us. 6 For while we were still weak, at the right time Christ died for the ungodly. 7 Indeed, rarely will anyone die for a righteous person—though perhaps for a good person someone might actually dare to die. 8 But God proves his love for us in that while we still were sinners Christ died for us.
TE DEUM LAUDAMUS.
WE praise thee, O God; we acknowledge thee to be the Lord.
All the earth doth worship thee, the Father everlasting.
To thee all Angels cry aloud, the Heavens and all the Powers therein.
To thee Cherubim and Seraphim continually do cry,
Holy, Holy, Holy, Lord God of hosts;
Heaven and earth are full of the Majesty of thy glory.
The glorious company of the Apostles praise thee;
The goodly fellowship of the Prophets praise thee;
The noble army of Martyrs praise thee;
The holy Church throughout all the world doth acknowledge thee,
The Father, of an infinite Majesty;
Thine honourable, true, and only Son;
Also the Holy Ghost, the Comforter.
THOU art the King of Glory, O Christ.
Thou art the everlasting Son of the Father.
When thou tookest upon thee to deliver man, thou didst not abhor the Virgin's womb.
When thou hadst overcome the sharpness of death, thou didst open the kingdom of heaven to all believers.
Thou sittest at the right hand of God, in the glory of the Father.
We believe that thou shalt come to be our Judge.
We therefore pray thee, help thy servants, whom thou hast redeemed with thy precious blood.
Make them to be numbered with thy Saints, in glory everlasting.
O LORD, save thy people, and bless thine heritage;
Govern them, and lift them up for ever.
Day by day we magnify thee;
And we worship thy Name, ever world without end.
Vouchsafe, O Lord, to keep us this day without sin.
O Lord, have mercy upon us, have mercy upon us.
O Lord, let thy mercy lighten upon us, as our trust is in thee.
O Lord, in thee have I trusted: let me never be confounded.
THE HOLY GOSPEL: Matthew 9:35-10:8 R./ Glory be to Thee, O Lord.
35 Then Jesus went about all the cities and villages, teaching in their synagogues, and proclaiming the good news of the kingdom, and curing every disease and every sickness. 36 When he saw the crowds, he had compassion for them, because they were harassed and helpless, like sheep without a shepherd. 37 Then he said to his disciples, "The harvest is plentiful, but the laborers are few; 38 therefore ask the Lord of the harvest to send out laborers into his harvest." 1 Then Jesus summoned his twelve disciples and gave them authority over unclean spirits, to cast them out, and to cure every disease and every sickness. 2 These are the names of the twelve apostles: first, Simon, also known as Peter, and his brother Andrew; James son of Zebedee, and his brother John; 3 Philip and Bartholomew; Thomas and Matthew the tax collector; James son of Alphaeus, and Thaddaeus; 4 Simon the Cananaean, and Judas Iscariot, the one who betrayed him. 5 These twelve Jesus sent out with the following instructions: "Go nowhere among the Gentiles, and enter no town of the Samaritans, 6 but go rather to the lost sheep of the house of Israel. 7 As you go, proclaim the good news, "The kingdom of heaven has come near.' 8 Cure the sick, raise the dead, cleanse the lepers, cast out demons. You received without payment; give without payment.
R./ Praise be to thee, O Christ.
BENEDICTUS. ST LUKE 1:68
BLESSED be the Lord God of Israel; / for he hath visited and redeemed his people;
And hath raised up a mighty salvation for us, / in the house of his servant David;
As he spake by the mouth of his holy Prophets, / which have been since the world began;
That we should be saved from our enemies, / and from the hands of all that hate us;
To perform the mercy promised to our forefathers, / and to remember his holy covenant;
To perform the oath which he sware to our forefather Abraham, / that he would grant us
That we being delivered out of the hands of our enemies / might serve him without fear,
In holiness and righteousness before him, / all the days of our life.
AND thou, child, shalt be called the Prophet of the Highest: / for thou shalt go before the face of the Lord to prepare his ways;
To give knowledge of salvation unto his people / for the remission of their sins;
Through the tender mercy of our God; / whereby the day-spring from on high hath visited us;
To give light to them that sit in darkness, and in the shadow of death, / and to guide our feet into the way of peace.
GLORY be to the Father, and to the Son, / and to the Holy Ghost;
As it was in the beginning, is now, and ever shall be, / world without end. Amen.
Then shall be said or sung the Confession of the Faith, called the Apostles' Creed.
I BELIEVE in God the Father Almighty, Maker of heaven and earth:
And in Jesus Christ his only Son our Lord, Who was conceived by the Holy Ghost, Born of the Virgin Mary, Suffered under Pontius Pilate, Was crucified, dead, and buried: He descended into hell; The third day he rose again from the dead; He ascended into heaven, And sitteth on the right hand of God the Father Almighty; From thence he shall come to judge the quick and the dead.
I believe in the Holy Ghost; The holy Catholic Church; The Communion of Saints; The Forgiveness of sins; The Resurrection of the body, And the Life everlasting. Amen.
And after the Creed these prayers following, the Minister first pronouncing:
The Lord be with you;
And with thy spirit.
Let us pray.
Lord, have mercy upon us.
Christ, have mercy upon us.
Lord, have mercy upon us.
OUR Father who art in heaven, Hallowed be thy Name, Thy kingdom come, Thy will be done, on earth as it is in heaven. Give us this day our daily bread; And forgive us our trespasses, As we forgive them that trespass against us; And lead us not into temptation, But deliver us from evil. Amen.
O Lord, show thy mercy upon us;
And grant us thy salvation.
O Lord, save the Queen;
And mercifully hear us when we call upon thee.
Endue thy Ministers with righteousness;
And make thy chosen people joyful.
O Lord, save thy people;
And bless thine inheritance.
Give peace in our time, O Lord;
And evermore mightily defend us.
O God, make clean our hearts within us;
And take not thy Holy Spirit from us.
The Collect for First Sunday after Trinity.
O GOD, the strength of all them that put their trust in thee: Mercifully accept our prayers; and because through the weakness of our mortal nature we can do no good thing without thee, grant us the help of thy grace, that in keeping of thy commandments we may please thee both in will and deed; through Jesus Christ our Lord. Amen.
The Second Collect, for Peace.
O GOD, who art the author of peace and lover of concord, in knowledge of whom standeth our eternal life, whose service is perfect freedom: Defend us thy humble servants in all assaults of our enemies; that we, surely trusting in thy defence, may not fear the power of any adversaries; through the might of Jesus Christ our Lord. Amen.
The Third Collect, for Grace.
O LORD our heavenly Father, Almighty and everlasting God, who hast safely brought us to the beginning of this day: Defend us in the same with thy mighty power; and grant that this day we fall into no sin, neither run into any kind of danger; but that all our doings may be ordered by thy governance, to do always that is righteous in thy sight; through Jesus Christ our Lord. Amen.
A Prayer for the Clergy and People.
ALMIGHTY and everlasting God, from whom cometh every good and perfect gift: Send down upon our Bishops and Clergy, and all Congregations committed to their charge, the healthful Spirit of thy grace; and that they may truly please thee, pour upon them the continual dew of thy blessing. Grant this, O Lord, for the honour of our Advocate and Mediator, Jesus Christ. Amen.
HYMN: We Cannot measure How You Heal
We cannot measure how you heal
or answer every sufferer's prayer,
yet we believe your grace responds
where faith and doubt unite to care.
Your hands, though bloodied on the cross,
survive to hold and heal and warn,
to carry all through death to life
and cradle children yet unborn.
The pain that will not go away,
the guilt that clings from things long past,
the fear of what the future holds,
are present as if meant to last.
But present too is love which tends
the hurt we never hoped to find,
the private agonies inside,
the memories that haunt the mind.
So some have come who need your help
and some have come to make amends,
as hands which shaped and saved the world
are present in the touch of friends.
Lord, let your Spirit meet us here
to mend the body, mind and soul,
to disentangle peace from pain,
and make your broken people whole.
The Sermon – The Rector
Occasional Prayers and Thanksgivings
Let us pray for our Parish of St. Mary's
O GOD the Holy Ghost, Sanctifier of the faithful: Sanctify this parish by thine abiding presence. Bless those who minister in holy things. Enlighten the minds of thy people more and more with the light of the everlasting Gospel. Bring erring souls to the knowledge of God our Saviour; and those who are walking in the way of life, keep stedfast unto the end. Give patience to the sick and afflicted, and renew them in body and soul. Guard from forgetfulness of thee those who are strong and prosperous. Increase in us thy manifold gifts of grace, and make us all to be fruitful in good works; O blessed Spirit, whom with the Father and the Son together we worship and glorify, one God, world without end. Amen.
For Healing Ministries.
ALMIGHTY God, whose blessed Son Jesus Christ went about doing good, and healing all manner of sickness and disease among the people: Continue, we beseech thee, this his gracious work among us [especially in . . .]; cheer, heal, and sanctify the sick; grant to the physicians, surgeons, and nurses wisdom and skill, sympathy and patience; and send down thy blessing upon all who labour to prevent suffering and to forward thy purposes of love; through Jesus Christ our Lord. Amen
For Teachers in Schools.
GRANT, we beseech thee, O heavenly Father, to all who teach in our schools, the spirit of wisdom and grace, that they may lead their pupils to reverence truth, desire goodness, and rejoice in beauty; so that all may come to know and worship thee, the giver of all that is good; through Jesus Christ our Lord. Amen.
For Peace in the World.
ALMIGHTY God, from whom all thoughts of truth and peace proceed: Kindle, we pray thee, in the hearts of all men the true love of peace, and guide with thy pure and peaceable wisdom those who take counsel for the nations of the earth; that in tranquillity thy kingdom may go forward, till the earth is filled with the knowledge of thy love; through Jesus Christ our Lord. Amen.
For the Extension of the Church.
ALMIGHTY God, who by thy Son Jesus Christ didst give commandment to the Apostles that they should go into all the world, and preach the Gospel to every creature: Grant to us whom thou hast called into thy Church, a ready will to obey thy Word; and fill us with a hearty desire to make thy way known upon earth, thy saving health among all nations; through Jesus Christ our Lord. Amen.
A Thanksgiving.
O MOST merciful Father, we humbly thank thee for all thy gifts so freely bestowed upon us. For life and health and safety, for power to work and leisure to rest, for all that is beautiful in creation and in the lives of men and women, we praise and magnify thy holy Name. But, above all, we thank thee for our spiritual mercies in Christ Jesus our Lord, for the means of grace, and for the hope of glory. Fill our hearts with all joy and peace in believing; through Jesus Christ our Lord. Amen.
Ephesians 3. 20, 21
NOW unto him that is able to do exceeding abundantly above all that we ask or think, according to the power that worketh in us, unto him be glory in the Church and in Christ Jesus, throughout all ages, world without end. Amen.
2 Corinthians 13:14.
THE grace of our Lord Jesus Christ, and the love of God, and the fellowship of the Holy Ghost, be with us all evermore. Amen.
The Hymn: King of Love, We Crown Thee
King of love, O Christ, we crown you
Lord of thought and Lord of will,
each demand of your high challenge
dedicated to fulfil;
we with you by grace co-workers,
till, where human foot has trod,
peoples, kings, dominions, races,
own the empire of our God.
King of life, you have created
wheat in golden harvest spread:
make your servants strong to serve you
by the gift of daily bread.
Feed us with your body broken,
with your blood outpoured sustain,
that our souls divinely strengthened
may the life eternal gain.
King of mercy, you have saved us
From the haunting sense of loss,
Nailing in your vast compassion
Sin's indictment to the Cross.
Those who love by your sore anguish,
From the past you cleanse and free
Breathing words of absolution
Thorned and reigning from the tree.
King triumphant, King victorious,
take your throne our hearts within,
lest the might of fierce temptation
snare us into deadly sin.
By the Spirit's rich anointing,
grant us strength life's race to run,
till the power of sin be vanquished,
till the prize of God be won.