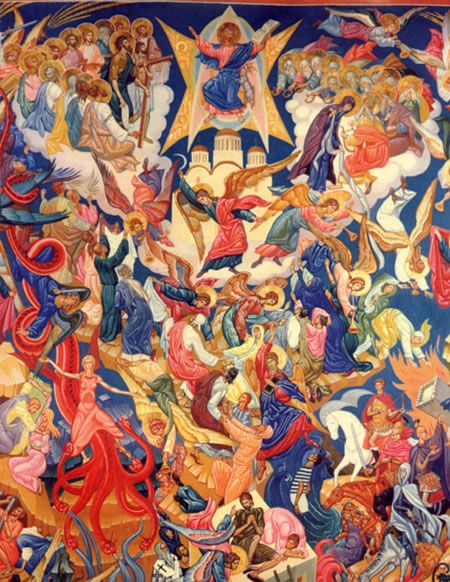 THE ORDER OF SERVICE FOR MORNING PRAYER
According to The Book of Common Prayer
Opening Hymn: Praise to the Lord.
Praise to the Lord, the Almighty, the King of creation!
O my soul, praise Him, for He is thy health and salvation!
All ye who hear, now to His temple draw near;
Praise Him in glad adoration.
Praise to the Lord, who o'er all things so wondrously reigneth,
Shelters thee under His wings, yea, so gently sustaineth!
Hast thou not seen how thy desires e'er have been
Granted in what He ordaineth?
Praise to the Lord, who doth prosper thy work and defend thee;
Surely His goodness and mercy here daily attend thee;
Ponder anew what the Almighty can do,
If with His love He befriend thee.
Praise to the Lord, oh, let all that is in me adore Him!
All that hath life and breath, come now with praises before Him;
Let the Amen sound from His people again,
Gladly for aye we adore Him.
Sentences of Scripture.
O worship the LORD in the beauty of holiness: let the whole earth stand in awe of him.
Psalm 96. 9.
Thus saith the high and lofty One that inhabiteth eternity, whose name is Holy: I dwell in the high and holy place, with him also that is of a contrite and humble spirit.
Isaiah 57. 15.
The Minister,
DEARLY beloved brethren, the Scripture moveth us in sundry places to acknowledge and confess our manifold sins and wickedness; and that we should not dissemble nor cloke them before the face of Almighty God our heavenly Father; but confess them with an humble, lowly, penitent, and obedient heart; to the end that we may obtain forgiveness of the same, by his infinite goodness and mercy. And although we ought at all times humbly to acknowledge our sins before God; yet ought we most chiefly so to do, when we assemble and meet together to render thanks for the great benefits that we have received at his hands, to set forth his most worthy praise, to hear his most holy Word, and to ask those things which are requisite and necessary, as well for the body as the soul. Wherefore I pray and beseech you, as many as are here present, to accompany me with a pure heart and humble voice unto the throne of the heavenly grace.
ALMIGHTY and most merciful Father, We have erred and strayed from thy ways like lost sheep, We have followed too much the devices and desires of our own hearts, We have offended against thy holy laws, We have left undone those things which we ought to have done, And we have done those things which we ought not to have done; And there is no health in us. But thou, O Lord, have mercy upon us, miserable offenders. Spare thou them, O God, which confess their faults. Restore thou them that are penitent; According to thy promises declared unto mankind in Christ Jesu our Lord. And grant, O most merciful Father, for his sake, That we may hereafter live a godly, righteous, and sober life, To the glory of thy holy Name. Amen.
For Pardon through the Cross.
ALMIGHTY Father, who of thy great love to men didst give thy dearly beloved Son to die for us; Grant that through his Cross our sins may be put away, and remembered no more against us, and that, cleansed by his Blood, and mindful of his sufferings, we may take up our cross daily, and follow him in newness of life, until we come to his everlasting kingdom; through the same thy Son Jesus Christ our Lord. Amen.
OUR Father who art in heaven, Hallowed be thy Name, Thy kingdom come, Thy will be done, on earth as it is in heaven. Give us this day our daily bread; And forgive us our trespasses, As we forgive them that trespass against us; And lead us not into temptation, But deliver us from evil. For thine is the kingdom, the power, and the glory, For ever and ever. Amen.
O Lord, open thou our lips;
And our mouth shall show forth thy praise.
O God, make speed to save us;
O Lord, make haste to help us.
GLORY be to the Father, and to the Son, and to the Holy Ghost;
As it was in the beginning, is now, and ever shall be, world without end. Amen.
Praise ye the Lord;
The Lord's Name be praised.
VENITE EXULTEMUS DOMINO. PSALM 95
O COME, let us sing unto the LORD: / let us heartily rejoice in the strength of our salvation.
Let us come before his presence with thanksgiving, / and show ourselves glad in him with psalms.
For the LORD is a great God, / and a great King above all gods.
In his hand are all the corners of the earth: / and the strength of the hills is his also.
The sea is his, and he made it: / and his hands prepared the dry land.
O COME, let us worship, and fall down, / and kneel before the LORD our Maker.
For he is the Lord our God; / and we are the people of his pasture, and the sheep of his hand.
GLORY be to the Father, and to the Son, / and to the Holy Ghost;
As it was in the beginning, is now, and ever shall be, / world without end. Amen.
THE FIRST LESSON: Isaiah 44.6-8
6 Thus says the Lord, the King of Israel, and his Redeemer, the Lord of hosts: I am the first and I am the last; besides me there is no god. 7 Who is like me? Let them proclaim it, let them declare and set it forth before me. Who has announced from of old the things to come? Let them tell us what is yet to be. 8 Do not fear, or be afraid; have I not told you from of old and declared it? You are my witnesses! Is there any god besides me? There is no other rock; I know not one.
PSALM 86.11-17
TEACH me thy way, O LORD, and I will walk in thy truth: / O knit my heart unto thee, that I may fear thy Name.
I will thank thee, O Lord my God, with all my heart, / and will praise thy Name for evermore.
For great is thy mercy toward me; / and thou hast delivered my soul from the nethermost hell.
O GOD, the proud are risen against me, / and a band of violent men have sought after my soul, and have not set thee before their eyes.
But thou, O Lord, art a God full of compassion, and gracious, / long-suffering, plenteous in mercy and truth.
O turn thee then unto me, and have mercy upon me; / give thy strength unto thy servant, and help the son of thy handmaid.
Show some token upon me for good, that they who hate me may see it and be ashamed, / because thou, LORD, hast helped me, and comforted me.
Second Reading: Romans 8:12-25
12 So then, brothers and sisters, we are debtors, not to the flesh, to live according to the flesh— 13 for if you live according to the flesh, you will die; but if by the Spirit you put to death the deeds of the body, you will live. 14 For all who are led by the Spirit of God are children of God. 15 For you did not receive a spirit of slavery to fall back into fear, but you have received a spirit of adoption. When we cry, "Abba! Father!" 16 it is that very Spirit bearing witness with our spirit that we are children of God, 17 and if children, then heirs, heirs of God and joint heirs with Christ—if, in fact, we suffer with him so that we may also be glorified with him. 18 I consider that the sufferings of this present time are not worth comparing with the glory about to be revealed to us. 19 For the creation waits with eager longing for the revealing of the children of God; 20 for the creation was subjected to futility, not of its own will but by the will of the one who subjected it, in hope 21 that the creation itself will be set free from its bondage to decay and will obtain the freedom of the glory of the children of God. 22 We know that the whole creation has been groaning in labor pains until now; 23 and not only the creation, but we ourselves, who have the first fruits of the Spirit, groan inwardly while we wait for adoption, the redemption of our bodies. 24 For in hope we were saved. Now hope that is seen is not hope. For who hopes for what is seen? 25 But if we hope for what we do not see, we wait for it with patience.
Hymn: Come Down O Love Divine
Come down, O Love divine!
seek out this soul of mine
and visit it with your own ardour glowing;
O Comforter, draw near,
within my heart appear,
and kindle it, your holy flame bestowing.
There let it freely burn
till earthly passions turn
to dust and ashes in its heat consuming;
and let your glorious light
shine ever on my sight,
and make my pathway clear, by your illuming.
Let holy charity
my outward vesture be,
and lowliness become my inner clothing;
true lowliness of heart
which takes the humbler part,
and for its own shortcomings weeps with loathing.
And so the yearning strong
with which the soul will long
shall far surpass the power of human telling;
for none can guess its grace
till we become the place
in which the Holy Spirit makes his dwelling.
THE HOLY GOSPEL: Matthew 13.24-30, 36-43
R./ Glory be to Thee, O Lord.
24 He put before them another parable: "The kingdom of heaven may be compared to someone who sowed good seed in his field; 25 but while everybody was asleep, an enemy came and sowed weeds among the wheat, and then went away. 26 So when the plants came up and bore grain, then the weeds appeared as well. 27 And the slaves of the householder came and said to him, "Master, did you not sow good seed in your field? Where, then, did these weeds come from?' 28 He answered, "An enemy has done this.' The slaves said to him, "Then do you want us to go and gather them?' 29 But he replied, "No; for in gathering the weeds you would uproot the wheat along with them. 30 Let both of them grow together until the harvest; and at harvest time I will tell the reapers, Collect the weeds first and bind them in bundles to be burned, but gather the wheat into my barn.' " 36 Then he left the crowds and went into the house. And his disciples approached him, saying, "Explain to us the parable of the weeds of the field." 37 He answered, "The one who sows the good seed is the Son of Man; 38 the field is the world, and the good seed are the children of the kingdom; the weeds are the children of the evil one, 39 and the enemy who sowed them is the devil; the harvest is the end of the age, and the reapers are angels. 40 Just as the weeds are collected and burned up with fire, so will it be at the end of the age. 41 The Son of Man will send his angels, and they will collect out of his kingdom all causes of sin and all evildoers, 42 and they will throw them into the furnace of fire, where there will be weeping and gnashing of teeth. 43 Then the righteous will shine like the sun in the kingdom of their Father. Let anyone with ears listen!
R./ Praise be to thee, O Christ.
BENEDICTUS. ST LUKE 1:68
BLESSED be the Lord God of Israel; / for he hath visited and redeemed his people;
And hath raised up a mighty salvation for us, / in the house of his servant David;
As he spake by the mouth of his holy Prophets, / which have been since the world began;
That we should be saved from our enemies, / and from the hands of all that hate us;
To perform the mercy promised to our forefathers, / and to remember his holy covenant;
To perform the oath which he sware to our forefather Abraham, / that he would grant us
That we being delivered out of the hands of our enemies / might serve him without fear,
In holiness and righteousness before him, / all the days of our life.
AND thou, child, shalt be called the Prophet of the Highest: / for thou shalt go before the face of the Lord to prepare his ways;
To give knowledge of salvation unto his people / for the remission of their sins;
Through the tender mercy of our God; / whereby the day-spring from on high hath visited us;
To give light to them that sit in darkness, and in the shadow of death, / and to guide our feet into the way of peace.
GLORY be to the Father, and to the Son, / and to the Holy Ghost;
As it was in the beginning, is now, and ever shall be, / world without end. Amen.
Then shall be said or sung the Confession of the Faith, called the Apostles' Creed.
I BELIEVE in God the Father Almighty, Maker of heaven and earth:
And in Jesus Christ his only Son our Lord, Who was conceived by the Holy Ghost, Born of the Virgin Mary, Suffered under Pontius Pilate, Was crucified, dead, and buried: He descended into hell; The third day he rose again from the dead; He ascended into heaven, And sitteth on the right hand of God the Father Almighty; From thence he shall come to judge the quick and the dead.
I believe in the Holy Ghost; The holy Catholic Church; The Communion of Saints; The Forgiveness of sins; The Resurrection of the body, And the Life everlasting. Amen.
And after the Creed these prayers following, the Minister first pronouncing:
The Lord be with you;
And with thy spirit.
Let us pray.
Lord, have mercy upon us.
Christ, have mercy upon us.
Lord, have mercy upon us.
OUR Father who art in heaven, Hallowed be thy Name, Thy kingdom come, Thy will be done, on earth as it is in heaven. Give us this day our daily bread; And forgive us our trespasses, As we forgive them that trespass against us; And lead us not into temptation, But deliver us from evil. Amen.
O Lord, show thy mercy upon us;
And grant us thy salvation.
O Lord, save the Queen;
And mercifully hear us when we call upon thee.
Endue thy Ministers with righteousness;
And make thy chosen people joyful.
O Lord, save thy people;
And bless thine inheritance.
Give peace in our time, O Lord;
And evermore mightily defend us.
O God, make clean our hearts within us;
And take not thy Holy Spirit from us.
The Collect for the Sixth Sunday after Trinity.
O GOD, who hast prepared for them that love thee such good things as pass man's understanding: Pour into our hearts such love toward thee, that we, loving thee above all things, may obtain thy promises, which exceed all that we can desire; through Jesus Christ our Lord. Amen.
The Second Collect, for Peace.
O GOD, who art the author of peace and lover of concord, in knowledge of whom standeth our eternal life, whose service is perfect freedom: Defend us thy humble servants in all assaults of our enemies; that we, surely trusting in thy defence, may not fear the power of any adversaries; through the might of Jesus Christ our Lord. Amen.
The Third Collect, for Grace.
O LORD our heavenly Father, Almighty and everlasting God, who hast safely brought us to the beginning of this day: Defend us in the same with thy mighty power; and grant that this day we fall into no sin, neither run into any kind of danger; but that all our doings may be ordered by thy governance, to do always that is righteous in thy sight; through Jesus Christ our Lord. Amen.
A Prayer for the Clergy and People.
ALMIGHTY and everlasting God, from whom cometh every good and perfect gift: Send down upon our Bishops and Clergy, and all Congregations committed to their charge, the healthful Spirit of thy grace; and that they may truly please thee, pour upon them the continual dew of thy blessing. Grant this, O Lord, for the honour of our Advocate and Mediator, Jesus Christ. Amen.
HYMN Breathe on Me Breath of God
Breathe on me, Breath of God
fill me with life anew,
that as you love, so I may love,
and do what you would do.

Breathe on me, Breath of God,
until my heart is pure;
until my will is one with yours,
to do and to endure.

Breathe on me, Breath of God,
till I am wholly thine;
until this earthly part of me
glows with your heavenly fire.

Breathe on me, Breath of God:
so shall I never die,
but live with you the perfect life
of your eternity.
The Sermon – Beth Christianson
A Prayer for all Conditions of Men.
O GOD, the Creator and Preserver of all mankind, we humbly beseech thee for all sorts and conditions of men; that thou wouldest be pleased to make thy ways known unto them, thy saving health unto all nations.
(Prayers may be offered here for the life of the world)
More especially we pray for the good estate of the Catholic Church; that it may be so guided and governed by thy good Spirit, that all who profess and call themselves Christians may be led into the way of truth, and hold the faith in unity of spirit, in the bond of peace, and in righteousness of life.
(Prayers may be offered here for the life of the Church)
Finally we commend to thy fatherly goodness all those, who are any ways afflicted or distressed in mind, body, or estate; especially for…
that it may please thee to comfort and relieve them, according to their several necessities, giving them patience under their sufferings, and a happy issue out of all their afflictions. And this we beg for Jesus Christ his sake. Amen.
A General Thanksgiving, to be said by the Minister and people together.
ALMIGHTY God, Father of all mercies, We thine unworthy servants do give thee most humble and hearty thanks For all thy goodness and loving-kindness To us and to all men [* particularly to those who desire now to offer up their praises and thanksgivings.] We bless thee for our creation, preservation, and all the blessings of this life; But above all for thine inestimable love In the redemption of the world by our Lord Jesus Christ; For the means of grace, And for the hope of glory. And we beseech thee, give us that due sense of all thy mercies, That our hearts may be unfeignedly thankful, And that we show forth thy praise, Not only with our lips, but in our lives; By giving up ourselves to thy service, And by walking before thee in holiness and righteousness all our days; Through Jesus Christ our Lord, To whom, with thee and the Holy Ghost, be all honour and glory, world without end. Amen.
A Prayer of Saint Chrysostom.
ALMIGHTY God, who hast given us grace at this time with one accord to make our common supplications unto thee; and dost promise that when two or three are gathered together in thy Name thou wilt grant their requests: Fulfil now, O Lord, the desires and petitions of thy servants, as may be most expedient for them; granting us in this world knowledge of thy truth, and in the world to come life everlasting. Amen.
2 Corinthians 13:14.
THE grace of our Lord Jesus Christ, and the love of God, and the fellowship of the Holy Ghost, be with us all evermore. Amen.
The Hymn: Once to Every man and nation.
Once to every man and nation,
comes the moment to decide,
in the strife of truth with falsehood,
for the good or evil side;
some great cause, some great decision,
offering each the bloom or blight,
and the choice goes by forever,
'twixt that darkness and that light.

Then to side with truth is noble,
when we share her wretched crust,
ere her cause bring fame and profit,
and 'tis prosperous to be just;
then it is the brave man chooses
while the coward stands aside,
till the multitude make virtue
of the faith they had denied.

By the light of burning martyrs,
Christ, thy bleeding feet we track,
toiling up new Calvaries ever
with the cross that turns not back;
new occasions teach new duties,
ancient values test our youth;
they must upward still and onward,
who would keep abreast of truth.

Though the cause of evil prosper,
yet the truth alone is strong;
though her portion be the scaffold,
and upon the throne be wrong;
yet that scaffold sways the future,
and behind the dim unknown,
standeth God within the shadow,
keeping watch above his own.