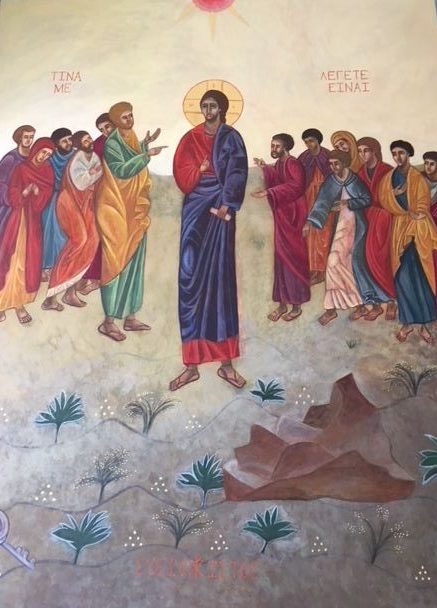 THE ORDER OF SERVICE FOR MORNING PRAYER
According to The Book of Common Prayer
Opening Hymn: Christ is Made the Sure Foundation
Christ is made the sure foundation,
Christ the head and cornerstone;
Chosen of the Lord, and precious,
Binding all the Church in one,
Holy Zion's help forever,
And her confidence alone.
All that dedicated city,
Dearly loved of God on high,
In exultant jubilation
Pours perpetual melody,
God the One in Three adoring
In glad hymns eternally.
To this temple, where we call Thee,
Come, O Lord of Hosts, today;
With Thy wonted lovingkindness
Hear Thy servants as they pray.
And Thy fullest benediction
Shed within its walls alway.
Here vouchsafe to all Thy servants
What they ask of Thee to gain;
What they gain from Thee forever
With the blessèd to retain,
And hereafter in Thy glory
Evermore with Thee to reign.
Laud and honor to the Father,
Laud and honor to the Son,
Laud and honor to the Spirit,
Ever Three and ever One;
Consubstantial, co-eternal,
While unending ages run.
Sentences of Scripture.
The Minister,
DEARLY beloved brethren, the Scripture moveth us in sundry places to acknowledge and confess our manifold sins and wickedness; and that we should not dissemble nor cloke them before the face of Almighty God our heavenly Father; but confess them with an humble, lowly, penitent, and obedient heart; to the end that we may obtain forgiveness of the same, by his infinite goodness and mercy. And although we ought at all times humbly to acknowledge our sins before God; yet ought we most chiefly so to do, when we assemble and meet together to render thanks for the great benefits that we have received at his hands, to set forth his most worthy praise, to hear his most holy Word, and to ask those things which are requisite and necessary, as well for the body as the soul. Wherefore I pray and beseech you, as many as are here present, to accompany me with a pure heart and humble voice unto the throne of the heavenly grace.
ALMIGHTY and most merciful Father, We have erred and strayed from thy ways like lost sheep, We have followed too much the devices and desires of our own hearts, We have offended against thy holy laws, We have left undone those things which we ought to have done, And we have done those things which we ought not to have done; And there is no health in us. But thou, O Lord, have mercy upon us, miserable offenders. Spare thou them, O God, which confess their faults. Restore thou them that are penitent; According to thy promises declared unto mankind in Christ Jesu our Lord. And grant, O most merciful Father, for his sake, That we may hereafter live a godly, righteous, and sober life, To the glory of thy holy Name. Amen.
For Pardon through the Cross.
ALMIGHTY Father, who of thy great love to men didst give thy dearly beloved Son to die for us; Grant that through his Cross our sins may be put away, and remembered no more against us, and that, cleansed by his Blood, and mindful of his sufferings, we may take up our cross daily, and follow him in newness of life, until we come to his everlasting kingdom; through the same thy Son Jesus Christ our Lord. Amen.
OUR Father who art in heaven, Hallowed be thy Name, Thy kingdom come, Thy will be done, on earth as it is in heaven. Give us this day our daily bread; And forgive us our trespasses, As we forgive them that trespass against us; And lead us not into temptation, But deliver us from evil. For thine is the kingdom, the power, and the glory, For ever and ever. Amen.
O Lord, open thou our lips;
And our mouth shall show forth thy praise.
O God, make speed to save us;
O Lord, make haste to help us.
GLORY be to the Father, and to the Son, and to the Holy Ghost;
As it was in the beginning, is now, and ever shall be, world without end. Amen.

Praise ye the Lord;
The Lord's Name be praised. 
VENITE EXULTEMUS DOMINO. PSALM 95
O COME, let us sing unto the LORD: / let us heartily rejoice in the strength of our salvation.
Let us come before his presence with thanksgiving, / and show ourselves glad in him with psalms.
For the LORD is a great God, / and a great King above all gods.
In his hand are all the corners of the earth: / and the strength of the hills is his also.
The sea is his, and he made it: / and his hands prepared the dry land.
O COME, let us worship, and fall down, / and kneel before the LORD our Maker.
For he is the Lord our God; / and we are the people of his pasture, and the sheep of his hand.
GLORY be to the Father, and to the Son, / and to the Holy Ghost;
As it was in the beginning, is now, and ever shall be, / world without end. Amen.  
THE FIRST LESSON: Isaiah 51:1-6
1 Listen to me, you that pursue righteousness, you that seek the Lord. Look to the rock from which you were hewn, and to the quarry from which you were dug. 2 Look to Abraham your father and to Sarah who bore you; for he was but one when I called him, but I blessed him and made him many. 3 For the Lord will comfort Zion; he will comfort all her waste places, and will make her wilderness like Eden, her desert like the garden of the Lord; joy and gladness will be found in her, thanksgiving and the voice of song. 4 Listen to me, my people, and give heed to me, my nation; for a teaching will go out from me, and my justice for a light to the peoples. 5 I will bring near my deliverance swiftly, my salvation has gone out and my arms will rule the peoples; the coastlands wait for me, and for my arm they hope. 6 Lift up your eyes to the heavens, and look at the earth beneath; for the heavens will vanish like smoke, the earth will wear out like a garment, and those who live on it will die like gnats; but my salvation will be forever, and my deliverance will never be ended.
Here ends the lesson.
PSALM 138.1-8 Confitebor tibi.
I WILL give thanks unto thee, O LORD, with my whole heart: / even before the gods will I sing praise unto thee.
  I will worship toward thy holy temple and praise thy Name, because of thy loving-kindness and truth; / for thou hast magnified thy Name and thy word above all things.
When I called upon thee, thou heardest me, / and enduedst my soul with much strength.
  ALL the kings of the earth shall praise thee, O LORD; / for they have heard the words of thy mouth.
Yea, they shall sing of the ways of the LORD; / for great is the glory of the LORD.
   For though the LORD be high, yet hath he respect unto the lowly: / as for the proud, he beholdeth them afar off.
THOUGH I walk in the midst of trouble, yet shalt thou refresh me: / thou shalt stretch forth thy hand upon the fury of mine enemies, and thy right hand shall save me.
  The LORD shall fulfil his purpose toward me: / yea, thy mercy, O LORD, endureth for ever; forsake not then the works of thine own hands.
THE SECOND LESSON: Romans 12:1-8
1 I appeal to you therefore, brothers and sisters, by the mercies of God, to present your bodies as a living sacrifice, holy and acceptable to God, which is your spiritual worship. 2 Do not be conformed to this world, but be transformed by the renewing of your minds, so that you may discern what is the will of God—what is good and acceptable and perfect. 3 For by the grace given to me I say to everyone among you not to think of yourself more highly than you ought to think, but to think with sober judgment, each according to the measure of faith that God has assigned. 4 For as in one body we have many members, and not all the members have the same function, 5 so we, who are many, are one body in Christ, and individually we are members one of another. 6 We have gifts that differ according to the grace given to us: prophecy, in proportion to faith; 7 ministry, in ministering; the teacher, in teaching; 8 the exhorter, in exhortation; the giver, in generosity; the leader, in diligence; the compassionate, in cheerfulness.
Here ends the lesson.
Hymn: Eternal Ruler of the Ceaseless Round
Eternal Ruler of the ceaseless round
of circling planets singing on their way,
Guide of the nation from the night profound
into the glory of the perfect day;
rule in our hearts, that we may ever be
guided and strengthened and upheld by thee.

We are of thee, the children of thy love,
the brothers of thy well-beloved Son;
descend, O Holy Spirit, like a dove
into our hearts, that we may be as one:
as one with thee, to whom we ever tend;
as one with him, our Brother and our Friend.

We would be one in hatred of all wrong,
one in the love of all things sweet and fair,
one with the joy that breaketh into song,
one with the grief that trembleth into prayer;
one in the power that makes thy children free
to follow truth, and thus to follow thee.

Oh, clothe us with thy heavenly armor, Lord,
thy trusty shield, thy sword of love divine;
our inspiration be thy constant word,
we ask no victories that are not thine;
give or withhold, let pain or pleasure be;
enough to know that we are serving thee.
THE HOLY GOSPEL: Matthew 16:13-20
R./ Glory be to Thee, O Lord.
13 Now when Jesus came into the district of Caesarea Philippi, he asked his disciples, "Who do people say that the Son of Man is?" 14 And they said, "Some say John the Baptist, but others Elijah, and still others Jeremiah or one of the prophets." 15 He said to them, "But who do you say that I am?" 16 Simon Peter answered, "You are the Messiah, the Son of the living God." 17 And Jesus answered him, "Blessed are you, Simon son of Jonah! For flesh and blood has not revealed this to you, but my Father in heaven. 18 And I tell you, you are Peter, and on this rock I will build my church, and the gates of Hades will not prevail against it. 19 I will give you the keys of the kingdom of heaven, and whatever you bind on earth will be bound in heaven, and whatever you loose on earth will be loosed in heaven." 20 Then he sternly ordered the disciples not to tell anyone that he was the Messiah.
R./ Praise be to thee, O Christ.
BENEDICTUS. ST LUKE 1:68
BLESSED be the Lord God of Israel; / for he hath visited and redeemed his people;
And hath raised up a mighty salvation for us, / in the house of his servant David;
As he spake by the mouth of his holy Prophets, / which have been since the world began;
That we should be saved from our enemies, / and from the hands of all that hate us;
To perform the mercy promised to our forefathers, / and to remember his holy covenant;
To perform the oath which he sware to our forefather Abraham, / that he would grant us
That we being delivered out of the hands of our enemies / might serve him without fear,
In holiness and righteousness before him, / all the days of our life.
AND thou, child, shalt be called the Prophet of the Highest: / for thou shalt go before the face of the Lord to prepare his ways;
To give knowledge of salvation unto his people / for the remission of their sins;
Through the tender mercy of our God; / whereby the day-spring from on high hath visited us;
To give light to them that sit in darkness, and in the shadow of death, / and to guide our feet into the way of peace.
GLORY be to the Father, and to the Son, / and to the Holy Ghost;
As it was in the beginning, is now, and ever shall be, / world without end. Amen.
Then shall be said or sung the Confession of the Faith, called the Apostles' Creed.
I BELIEVE in God the Father Almighty, Maker of heaven and earth:
And in Jesus Christ his only Son our Lord, Who was conceived by the Holy Ghost, Born of the Virgin Mary, Suffered under Pontius Pilate, Was crucified, dead, and buried: He descended into hell; The third day he rose again from the dead; He ascended into heaven, And sitteth on the right hand of God the Father Almighty; From thence he shall come to judge the quick and the dead.
I believe in the Holy Ghost; The holy Catholic Church; The Communion of Saints; The Forgiveness of sins; The Resurrection of the body, And the Life everlasting. Amen.
And after the Creed these prayers following, the Minister first pronouncing:
The Lord be with you;
 And with thy spirit.
Let us pray.
Lord, have mercy upon us.
Christ, have mercy upon us.
Lord, have mercy upon us.
OUR Father who art in heaven, Hallowed be thy Name, Thy kingdom come, Thy will be done, on earth as it is in heaven. Give us this day our daily bread; And forgive us our trespasses, As we forgive them that trespass against us; And lead us not into temptation, But deliver us from evil. Amen.
O Lord, show thy mercy upon us;
And grant us thy salvation.
 O Lord, save the Queen;
And mercifully hear us when we call upon thee.
Endue thy Ministers with righteousness;
And make thy chosen people joyful.
O Lord, save thy people;
And bless thine inheritance.
Give peace in our time, O Lord;
And evermore mightily defend us.
O God, make clean our hearts within us;
And take not thy Holy Spirit from us.
The Collect for the Eleventh Sunday after Trinity.
O GOD, who declarest thy almighty power most chiefly in showing mercy and pity: Mercifully grant unto us such a measure of thy grace, that we, running the way of thy commandments, may obtain thy gracious promises, and be made partakers of thy heavenly treasure; through Jesus Christ our Lord. Amen.
The Second Collect, for Peace.
O GOD, who art the author of peace and lover of concord, in knowledge of whom standeth our eternal life, whose service is perfect freedom: Defend us thy humble servants in all assaults of our enemies; that we, surely trusting in thy defence, may not fear the power of any adversaries; through the might of Jesus Christ our Lord. Amen.
The Third Collect, for Grace.
O LORD our heavenly Father, Almighty and everlasting God, who hast safely brought us to the beginning of this day: Defend us in the same with thy mighty power; and grant that this day we fall into no sin, neither run into any kind of danger; but that all our doings may be ordered by thy governance, to do always that is righteous in thy sight; through Jesus Christ our Lord. Amen.
A Prayer for the Clergy and People.
ALMIGHTY and everlasting God, from whom cometh every good and perfect gift: Send down upon our Bishops and Clergy, and all Congregations committed to their charge, the healthful Spirit of thy grace; and that they may truly please thee, pour upon them the continual dew of thy blessing. Grant this, O Lord, for the honour of our Advocate and Mediator, Jesus Christ. Amen.
Hymn: How Firm a Foundation
How firm a foundation, ye saints of the Lord,
Is laid for your faith in His excellent word!
What more can He say than to you He has said—
To you who for refuge to Jesus have fled?
"Fear not, I am with you, oh, be not dismayed,
For I am your God, and will still give you aid;
I'll strengthen you, help you, and cause you to stand,
Upheld by My righteous, omnipotent hand.
"When through the deep waters I call you to go,
The rivers of sorrow shall not overflow;
For I will be with you your trouble to bless,
And sanctify to you your deepest distress.
"When through fiery trials your pathway shall lie,
My grace, all-sufficient, shall be your supply;
The flame shall not hurt you; I only design
Your dross to consume and your gold to refine.
"The soul that on Jesus has leaned for repose,
I will not, I will not, desert to his foes;
That soul, though all hell should endeavor to shake,
I'll never, no never, no never forsake."
Sermon – Revd Nathaniel Deng Mayen
For the Church Universal.
MOST gracious God, we humbly beseech thee for thy holy Catholic Church. Fill it with all truth; in all truth with all peace. Where it is corrupt, purify it; where it Is in error, direct it; where any thing is amiss, reform it; where it is right, strengthen and confirm it; where it is in want, furnish it; where it is divided and rent asunder, make it whole again; through Jesus Christ our Lord. Amen.
For the Extension of the Church
ALMIGHTY God, who by thy Son Jesus Christ didst give commandment to the Apostles that they should go into all the world, and preach the Gospel to every creature: Grant to us whom thou hast called into thy Church, a ready will to obey thy Word; and fill us with a hearty desire to make thy way known upon earth, thy saving health among all nations; through Jesus Christ our Lord. Amen.
For the Parish.
O GOD the Holy Ghost, Sanctifier of the faithful: Sanctify this parish by thine abiding presence. Bless those who minister in holy things. Enlighten the minds of thy people more and more with the light of the everlasting Gospel. Bring erring souls to the knowledge of God our Saviour; and those who are walking in the way of life, keep stedfast unto the end. Give patience to the sick and afflicted, and renew them in body and soul. Guard from forgetfulness of thee those who are strong and prosperous. Increase in us thy manifold gifts of grace, and make us all to be fruitful in good works; O blessed Spirit, whom with the Father and the Son together we worship and glorify, one God, world without end. Amen
For Teachers in Schools.
GRANT, we beseech thee, O heavenly Father, to all who teach in our schools, the spirit of wisdom and grace, that they may lead their pupils to reverence truth, desire goodness, and rejoice in beauty; so that all may come to know and worship thee, the giver of all that is good; through Jesus Christ our Lord. Amen.
For Healing Ministries
ALMIGHTY God, whose blessed Son Jesus Christ went about doing good, and healing all manner of sickness and disease among the people: Continue, we beseech thee, this his gracious work among us [especially in . . .]; cheer, heal, and sanctify the sick; grant to the physicians, surgeons, and nurses wisdom and skill, sympathy and patience; and send down thy blessing upon all who labour to prevent suffering and to forward thy purposes of love; through Jesus Christ our Lord. Amen.
COVID Prayer
O GOD, merciful Father, that despisest not the sighing of a contrite heart, nor the desire of such as be sorrowful: Mercifully assist our prayers that we make before thee in all our troubles and adversities, whensoever they oppress us; and graciously hear us, that those evils, which the craft and subtilty of the devil or man worketh against us, be brought to nought; and by the providence of thy goodness they may be dispersed; that we thy servants, being hurt by no persecutions, may evermore give thanks unto thee in thy holy Church; through Jesus Christ our Lord. Amen.
A General Thanksgiving, to be said by the Minister and people together.
ALMIGHTY God, Father of all mercies, We thine unworthy servants do give thee most humble and hearty thanks For all thy goodness and loving-kindness To us and to all men [* particularly to those who desire now to offer up their praises and thanksgivings.] We bless thee for our creation, preservation, and all the blessings of this life; But above all for thine inestimable love In the redemption of the world by our Lord Jesus Christ; For the means of grace, And for the hope of glory. And we beseech thee, give us that due sense of all thy mercies, That our hearts may be unfeignedly thankful, And that we show forth thy praise, Not only with our lips, but in our lives; By giving up ourselves to thy service, And by walking before thee in holiness and righteousness all our days; Through Jesus Christ our Lord, To whom, with thee and the Holy Ghost, be all honour and glory, world without end. Amen.
A Prayer of Saint Chrysostom.
ALMIGHTY God, who hast given us grace at this time with one accord to make our common supplications unto thee; and dost promise that when two or three are gathered together in thy Name thou wilt grant their requests: Fulfil now, O Lord, the desires and petitions of thy servants, as may be most expedient for them; granting us in this world knowledge of thy truth, and in the world to come life everlasting. Amen.
2 Corinthians 13:14.
THE grace of our Lord Jesus Christ, and the love of God, and the fellowship of the Holy Ghost, be with us all evermore. Amen.
Closing Hymn: Glorious in Majesty
Glorious in majesty, holy in His praises
Jesus our Saviour and our king
Born a man yet God of old, let us all adore Him
Filled with His Spirit let us sing

Living is to love Him
Serving Him to know His freedom
Come along with us to join the praise of Jesus
Come to Jesus now, go to live His word rejoicing

Victory He won for us, freeing us from darkness,
Dying and rising from the dead
Living with the Father now, yet He is among us
We are the body, He the head

Living is to love Him
Serving Him to know His freedom
Come along with us to join the praise of Jesus
Come to Jesus now, go to live His word rejoicing

Brethren, we live in love, living with each other
Gladly we share each other's pain
Yet He will not leave us so, soon He is returning
Taking us back with Him to reign

Living is to love Him
Serving Him to know His freedom
Come along with us to join the praise of Jesus
Come to Jesus now, go to live His word rejoicing
Living is to love Him
Serving Him to know His freedom
Come along with us to join the praise of Jesus
Come to Jesus now, go to live His word rejoicing