The Second Sunday In Lent
February 28, 2021
GLORY BE TO JESUS CHRIST! GLORY BE TO HIM FOREVER!
Today At St. Mary's
10.30  A.M. MORNING PRAYER WITH HYMNS AND SERMON..
GODLY PLAY for children 3-6 years via zoom. Today's story is 'Lent-Peter and the Rooster' Matthew 26:69 – 75.
CHILDREN'S LENTEN ALMS. For our Children's Lenten Alms Family Ministries has chosen City Kidz. We will be collecting alms for City Kidz, an organization that exists to help children living in low-income communities by providing inspirational experiences and personal relationships.
FAITHQUEST (for children 7-13 via zoom). Start Road to Emmaus rotation doing a Scavenger Hunt. Memory Verse/Key Verse: Then their eyes were opened, and they recognized him, and he vanished from their sight. They said to each other, "Were not our hearts burning within us while he was talking to us on the road, while he was opening the scriptures to us?" (Luke 24: 31-32 NRSV) Leader: Kate
Parish Life Notes
"BENEDICITE" PRAYER WALK meets again this afternoon at 1.00 p.m. at the Lych Gate at St.Mary's. All are welcome! All ye works of the Lord, bless ye the Lord. Praise Him and magnify Him for ever!
FASTING FOR FEEDING LENTEN OUTREACH. Join us next Sunday, March 7 at 4:30 p.m. on " zoom" from the kitchen of Clara and family as they lead us in preparing Miso Soup and Stir Fried Noodles to enjoy and share with others. ( see attached recipe for ingredients) Clara invites and encouragers St. Mary's parishioners in Lent to prepare meals to share with members of our Saturday morning Community Kitchen who have been unable to meet during the lockdown. (See photo below.)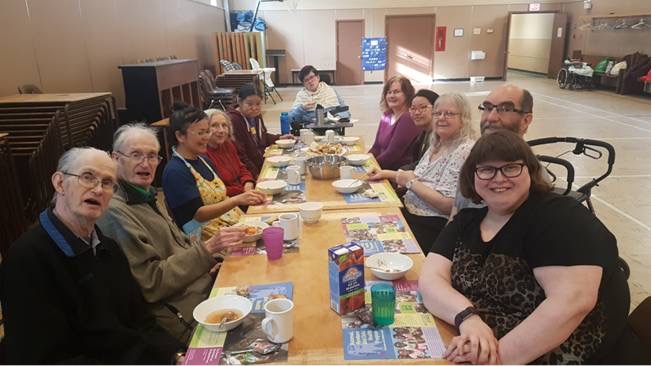 Please contact Clara who will link you up.
PLEDGE FORMS FOR 2021. The churchwardens ask that parishioners fill out and return paper pledge form that was mailed out, or fill out the pledge form on the parish web-site. Financial commitment is not only part and parcel of our out discipleship of Jesus Christ as expressed in our Rule of Life (BCP, p. 555), but is vital for the health, and well being for our parish, and assists the Vestry in stewarding our parishes finances.