(Modified 2021-10-03: Added audio recording)
THE EIGHTEENTH SUNDAY AFTER TRINITY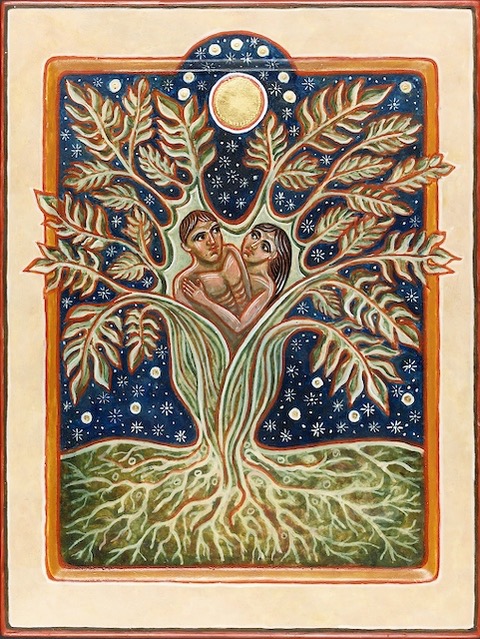 October 3, 2021 – 10.30 A.M. Holy Communion
THE HYMN: # 525 The Church's One Foundation
The Church's one foundation
Is Jesus Christ our Lord:
She is his new creation
By water and the word;
From Heaven He came
and sought her
To be His Holy Bride;
With His own blood he bought her,
and for her life He died.

Elect from every nation,
Yet one o'er all the earth,
Her charter of salvation
One Lord, one faith, one birth,
One holy name she blesses,
Partakes one Holy food,
And to one hope she presses,
With every grace endued.

Though with a scornful wonder
Men see her sore oppressed,
By schisms rent asunder,
By heresies distressed;
Yet saints their watch are keeping,
Their cry goes up: How long?
And soon the night of weeping
Shall be the morn of song.

Mid toil and tribulation,
And tumult of her war,
She waits the consummation
Of peace for evermore,
Till with the vision glorious
Her longing eyes are blest,
And the great church victorious
Shall be the church at rest.

Yet she on earth hath union
With God the three in One,
And mystic sweet communion
With those whose rest is one.
O happy ones and holy!
Lord, give us grace that we,
Like them, the meek and lowly,
On high may dwell with Thee.
THE LORD'S PRAYER
COLLECT FOR PURITY
ALMIGHTY God, unto whom all hearts be open, all desires known, and from whom no secrets are hid: Cleanse the thoughts of our hearts by the inspiration of thy Holy Spirit, that we may perfectly love thee, and worthily magnify thy holy Name; through Christ our Lord. Amen.
SUMMARY OF THE LAW
OUR Lord Jesus Christ said: Hear O Israel, The Lord our God is one Lord; and thou shalt love the Lord thy God with all thy heart, and with all thy soul, and with all thy mind, and with all thy strength. This is the first and great commandment And the second is like unto it: Thou shalt love thy neighbour as thyself. On these two commandments hang all the Law and the Prophets.


Lord, have mercy upon us, and write both these thy laws in our hearts, we beseech thee.
Lord, have mercy upon us.
Christ, have mercy upon us.
Lord, have mercy upon us.
The Lord be with you;
And with thy spirit.
Let us pray.
COLLECT FOR THE DAY
LORD, we beseech thee; grant thy people grace to withstand the temptations of the world, the flesh, and the devil, and with pure hearts and minds to follow thee the only God; through Jesus Christ our Lord. Amen.
OLD TESTAMENT LESSON: Genesis 2:18-24
Then the Lord God said, "It is not good that the man should be alone; I will make him a helper fit for him." So out of the ground the Lord God formed every beast of the field and every bird of the air, and brought them to the man to see what he would call them; and whatever the man called every living creature, that was its name. The man gave names to all cattle, and to the birds of the air, and to every beast of the field; but for the man there was not found a helper fit for him. So the Lord God caused a deep sleep to fall upon the man, and while he slept took one of his ribs and closed up its place with flesh; and the rib which the Lord God had taken from the man he made into a woman and brought her to the man. Then the man said, "This at last is bone of my bones
and flesh of my flesh; she shall be called Woman, because she was taken out of Man." Therefore a man leaves his father and his mother and cleaves to his wife, and they become one flesh.
R. / Thanks be to God.
PSALM 8
O LORD our Governor, how excellent is thy Name in all the world, / thou that hast set thy glory above the heavens!
Out of the mouth of very babes and sucklings hast thou ordained strength, because of thine enemies, / that thou mightest still the enemy and the avenger.
WHEN I consider thy heavens, even the work of thy fingers; / the moon and the stars, which thou hast ordained;
What is man, that thou art mindful of him, / and the son of man, that thou visitest him?
Thou hast made him but little lower than the angels, / and dost crown him with glory and worship.
Thou makest him to have dominion over the works of thy hands; / and thou hast put all things in subjection under his feet;
All sheep and oxen; / yea, and the beasts of the field;
The birds of the air, and the fishes of the sea; / and whatsoever moveth through the paths of the seas.
EPISTLE: Hebrews 1:1-4, 2:5-12
In many and various ways God spoke of old to our fathers by the prophets;but in these last days he has spoken to us by a Son, whom he appointed the heir of all things, through whom also he created the world. He reflects the glory of God and bears the very stamp of his nature, upholding the universe by his word of power. When he had made purification for sins, he sat down at the right hand of the Majesty on high, having become as much superior to angels as the name he has obtained is more excellent than theirs. For it was not to angels that God subjected the world to come, of which we are speaking. It has been testified somewhere, "What is man that thou art mindful of him, or the son of man, that thou carest for him? Thou didst make him for a little while lower than the angels,
thou hast crowned him with glory and honor, putting everything in subjection under his feet."
Now in putting everything in subjection to him, he left nothing outside his control. As it is, we do not yet see everything in subjection to him. But we see Jesus, who for a little while was made lower than the angels, crowned with glory and honor because of the suffering of death, so that by the grace of God he might taste death for every one. For it was fitting that he, for whom and by whom all things exist, in bringing many sons to glory, should make the pioneer of their salvation perfect through suffering. For he who sanctifies and those who are sanctified have all one origin. That is why he is not ashamed to call them brethren, saying, "I will proclaim thy name to my brethren, in the midst of the congregation I will praise thee." R./ Thanks be to God.
THE HYMN: Lead Me Lord
Blessed are the poor in spirit, longing for their Lord,
For God's coming kingdom shall be theirs.
Blessed are the sorrowing, for they shall be consoled,
And the meek shall come to rule the world.
Refrain:
Lead me, Lord, lead me, Lord, by the light of truth
To seek and to find the narrow way.
Be my way; be my truth; be my life, my Lord,
And lead me, Lord, today.

Blessed are the merciful, for mercy shall be theirs,
And the pure in heart shall see their God.
Blest are they whose hunger only holiness can fill,
for I say they shall be satisfied.
Blest are they who through their lifetimes sow the seeds of peace;
All will call them children of the Lord.
Blest are you, though persecuted in your holy life,
for in heaven, great is your reward.
THE HOLY GOSPEL: Mark 10:2-16
R. / Glory be to Thee, O Lord.
Some Pharisees came, and to test him they asked, "Is it lawful for a man to divorce his wife?" He answered them, "What did Moses command you?" They said, "Moses allowed a man to write a certificate of dismissal and to divorce her." But Jesus said to them, "Because of your hardness of heart he wrote this commandment for you. But from the beginning of creation, 'God made them male and female.' 'For this reason a man shall leave his father and mother and be joined to his wife, and the two shall become one flesh.' So they are no longer two, but one flesh. Therefore what God has joined together, let no one separate." Then in the house the disciples asked him again about this matter. He said to them, "Whoever divorces his wife and marries another commits adultery against her; and if she divorces her husband and marries another, she commits adultery." People were bringing little children to him in order that he might touch them; and the disciples spoke sternly to them. But when Jesus saw this, he was indignant and said to them, "Let the little children come to me; do not stop them; for it is to such as these that the kingdom of God belongs. Truly I tell you, whoever does not receive the kingdom of God as a little child will never enter it." And he took them up in his arms, laid his hands on them, and blessed them.
R./ Praise be to thee, O Christ.
THE NICENE CREED
I BELIEVE in one God the Father Almighty, Maker of heaven and earth, And of all things visible and invisible:
And in one Lord Jesus Christ, the only-begotten Son of God, Begotten of the Father before all worlds; God, of God; Light, of Light; Very God, of very God; Begotten, not made; Being of one substance with the Father; Through whom all things were made: Who for us men and for our salvation came down from heaven, And was incarnate by the Holy Ghost of the Virgin Mary, And was made man, And was crucified also for us under Pontius Pilate. He suffered and was buried, And the third day he rose again according to the Scriptures, And ascended into heaven, And sitteth on the right hand of the Father. And he shall come again with glory to judge both the quick and the dead: Whose kingdom shall have no end.
And I believe in the Holy Ghost, The Lord, The Giver of Life, Who proceedeth from the Father and the Son, Who with the Father and the Son together is worshipped and glorified, Who spake by the Prophets. And I believe One, Holy, Catholic, and Apostolic Church. I acknowledge one Baptism for the remission of sins. And I look for the Resurrection of the dead, And the Life of the world to come. Amen.
THE SERMON
THE OFFERTORY.
THE HYMN: # 645 Come Down, O Love Divine
Come down, O love divine,
Seek Thou this soul of mine,
And visit it with Thine
Own ardor glowing.
O Comforter, draw near,
Within my heart appear,
And kindle it,
Thy holy flame bestowing.
O let it freely burn,
Til earthly passions turn
To dust and ashes
In its heat consuming;
And let Thy glorious light
Shine ever on my sight,
And clothe me round,
The while my path illuming.
Let holy charity mine
Outward vesture be,
And lowliness become
Mine inner clothing;
True lowliness of heart,
Which takes the humbler part,
And o'er its own shortcomings
Weeps with loathing.
And so the yearning strong,
With which the soul will long,
Shall far outpass the power
Of human telling;
For none can guess its grace,
Till he become the place
Wherein the Holy Spirit
Makes His dwelling.
OFFERTORY ANTHEM
BLESSED be thou, LORD God of Israel, for ever and ever. All that is in the heaven and in the earth is thine. All things come of thee, and of thine own have we given thee. 1 Chronicles 29. 10, 11, 14.
THE BIDDINGS
THE INTERCESSION.
ALMIGHTY and everliving God, who by thy holy Apostle hast taught us to make prayers and supplications, and to give thanks, for all men: We humbly beseech thee most mercifully to accept our alms and oblations, andto receive these our prayers, which we offer unto thy Divine Majesty; beseeching thee to inspire continually the universal Church with the spirit of truth, unity, and concord: And grant that all they that do confess thy holy Name may agree in the truth of thy holy Word, and live in unity and godly love.
We beseech thee also to lead all nations in the way of righteousness; and so to guide and direct their governors and rulers, that thy people may enjoy the blessings of freedom and peace: And grant unto thy servant ELIZABETH our Queen, and to all that are put in authority under her, that they may truly and impartially administer justice, to the maintenance of thy true religion and virtue.
Give grace, O heavenly Father, to all Bishops, Priests, and Deacons, and specially to thy servant GREGORY our Metropolitan and ROBERT our Bishop, that they may both by their life and doctrine set forth thy true and living Word, and rightly and duly administer thy holy Sacraments: Prosper, we pray thee, all those who proclaim the Gospel of thy kingdom among the nations: And to all thy people give thy heavenly grace, and specially to this congregation here present, that, with meek heart and due reverence, they may hear and receive thy holy Word; truly serving thee in holiness and righteousness all the days of their life.
And we most humbly beseech thee of thy goodness, O Lord, to comfort and succour all them, who in this transitory life are in trouble, sorrow, need, sickness, or any other adversity, especially those for whom our prayers are desired.
We remember before thee, O Lord, all thy servants departed this life in thy faith and fear: and we bless thy holy Name for all who in life and death have glorified thee; beseeching thee to give us grace that, rejoicing in the fellowship of the Blessed Virgin Mary, and all the Saints, we may follow their good examples, and with them be partakers of thy heavenly kingdom.
Grant this, O Father, for Jesus Christ's sake, our only Mediator and Advocate, to whom, with thee and the Holy Ghost, be all honour and glory, world without end. Amen.
CONFESSION and ABSOLUTION
YE that do truly and earnestly repent you of your sins, and are in love and charity with your neighbours, and intend to lead the new life, following the commandments of God, and walking from henceforth in his holy ways: Draw near with faith, and take this holy Sacrament to your comfort; and make your humble confession to Almighty God, meekly kneeling upon your knees.
ALMIGHTY God, Father of our Lord Jesus Christ, Maker of all things, Judge of all men: We acknowledge and confess our manifold sins and wickedness, Which we from time to time most grievously have committed, By thought, word, and deed, Against thy Divine Majesty. We do earnestly repent, And are heartily sorry for these our misdoings. Have mercy upon us, most merciful Father; For thy Son our Lord Jesus Christ's sake, Forgive us all that is past; And grant that we may ever hereafter Serve and please thee In newness of life, To the honour and glory of thy Name; Through Jesus Christ our Lord. Amen.
ALMIGHTY God, our heavenly Father, who of his great mercy hath promised forgiveness of sins to all them that with hearty repentance and true faith turn unto him: Have mercy upon you; pardon and deliver you from all your sins; confirm and strengthen you in all goodness; and bring you to everlasting life; through Jesus Christ our Lord. Amen.
COMFORTABLE WORDS
THANKSGIVING AND CONSECRATION
THE Lord be with you;
And with thy spirit.
Lift up your hearts;
We lift them up unto the Lord.
Let us give thanks unto our Lord God;
It is meet and right so to do.
Then shall the Priest turn to the Lord's Table, and say:
IT is very meet, right, and our bounden duty, that we should at all times, and in all places give thanks unto thee, O Lord, Holy Father, Almighty, Everlasting God, Creator and Preserver of all things. THROUGH Jesus Christ our Lord. Therefore with Angels, and Archangels, and with all the company of heaven, we laud and magnify thy glorious Name; evermore praising thee and saying:
HOLY, Holy, Holy, Lord God of hosts,
Heaven and earth are full of thy glory. Glory be to thee, O Lord Most High.
BLESSED is he that cometh in the Name of the Lord: Hosanna in the highest.
BLESSING and glory and thanksgiving be unto thee Almighty God, our heavenly Father, who of thy tender mercy didst give thine only Son Jesus Christ to take our nature upon him, and to suffer death upon the Cross for our redemption; who made there, by his one oblation of himself once offered, a full, perfect, and sufficient sacrifice, oblation, and satisfaction, for the sins of the whole world; and did institute, and in his holy Gospel command us to continue, a perpetual memorial of that his precious death, until his coming again.
Hear us, O merciful Father, we most humbly beseech thee; and grant that we receiving these thy creatures of bread and wine, according to thy Son our Saviour Jesus Christ's holy institution, in remembrance of his death and passion, may be partakers of his most blessed Body and Blood; who, in the same night that he was betrayed, took Bread; and, when he had given thanks, he brake it; and gave it to his disciples, saying, Take, eat; this is my Body which is given for you: Do this in remembrance of me. Likewise after supper he took the Cup; and, when he had given thanks, he gave it to them, saying, Drink ye all, of this; for this is my Blood of the new Covenant, which is shed for you and for many for the remission of sins: Do this, as oft as ye shall drink it, in remembrance of me.
Wherefore, O Father, Lord of heaven and earth, we thy humble servants, with all thy holy Church, remembering the precious death of thy beloved Son, his mighty resurrection, and glorious ascension, and looking for his coming again in glory, do make before thee, in this sacrament of the holy Bread of eternal life and the Cup of everlasting salvation, the memorial which he hath commanded; And we entirely desire thy fatherly goodness mercifully to accept this our sacrifice of praise and thanksgiving, most humbly beseeching thee to grant, that by the merits and death of thy Son Jesus Christ, and through faith in his blood, we and all thy whole Church may obtain remission of our sins, and all other benefits of his passion; And we pray that by the power of thy Holy Spirit, all we who are partakers of this holy Communion may be fulfilled with thy grace and heavenly benediction; through Jesus Christ our Lord, by whom and with whom, in the unity of the Holy Spirit, all honour and glory be unto thee, O Father Almighty, world without end. Amen.
THE peace of the Lord be always with you;
And with thy spirit.
PRAYER OF HUMBLE ACCESS
WE do not presume to come to this thy Table, O merciful Lord, Trusting in our own righteousness, But in thy manifold and great mercies. We are not worthy So much as to gather up the crumbs under thy Table. But thou art the same Lord, Whose property is always to have mercy: Grant us therefore, gracious Lord, So to eat the Flesh of thy dear Son Jesus Christ, And to drink his Blood, That our sinful bodies may be made clean by his Body, And our souls washed through his most precious Blood, And that we may evermore dwell in him, And he in us. Amen.
THE COMMUNION
What Shall I render to the Lord…
THE LORD'S PRAYER
Let us pray.
OUR Father who art in heaven, Hallowed be thy Name, Thy kingdom come, Thy will be done, on earth as it is in heaven. Give us this day our daily bread; And forgive us our trespasses, As we forgive them that trespass against us; And lead us not into temptation, But deliver us from evil. For thine is the kingdom, the power, and the glory, For ever and ever. Amen.
ALMIGHTY and everliving God, we most heartily thank thee that thou dost graciously feed us, in these holy mysteries, with the spiritual food of the most precious Body and Blood of thy Son our Saviour Jesus Christ; assuring us thereby of thy favour and goodness towards us; and that we are living members of his mystical body, which is the blessed company of all faithful people; and are also heirs through hope of thy everlasting kingdom.
And here we offer and present unto thee, O Lord, ourselves, our souls and bodies, to be a reasonable, holy, and living sacrifice unto thee. And although we are unworthy, yet we beseech thee to accept this our bounden duty and service, not weighing our merits, but pardoning our offences; through Jesus Christ our Lord, to whom, with thee and the Holy Ghost, be all honour and glory, world without end. Amen.
GLORIA
GLORY be to God on high, and in earth peace, good will towards men. We praise thee, we bless thee, we worship thee, we glorify thee, we give thanks to thee for thy great glory, O Lord God, heavenly King, God the Father Almighty.
O Lord, the only-begotten Son, Jesu Christ; O Lord God, Lamb of God, Son of the Father, that takest away the sin of the world, have mercy upon us. Thou that takest away the sin of the world, receive our prayer. Thou that sittest at the right hand of God the Father, have mercy upon us.
For thou only art holy; thou only art the Lord; thou only, O Christ, with the Holy Ghost, art most high in the glory of God the Father. Amen.
ANNOUNCEMENTS
DISMISSAL
Let us go in peace to love and serve the Lord. Thanks be to God! Alleluia!
HYMN # 429 For the Beauty of the Earth
For the beauty of the earth,
for the glory of the skies,
for the love which from our birth
over and around us lies,
Christ our God, to thee we raise
this our sacrifice of praise.
For the beauty of each hour
of the day and of the night,
hill and vale, and tree and flower,
sun and moon and stars of light,
Christ our God, to thee we raise
this our sacrifice of praise.
For the joy of ear and eye,
for the heart and mind's delight,
for the mystic harmony
linking sense to sound and sight,
Christ our God, to thee we raise
this our sacrifice of praise.
For the joy of human love,
brother, sister, parent, child,
friends on earth and friends above,
for all gentle thoughts and mild,
Christ our God, to thee we raise
this our sacrifice of praise.
For each perfect gift of thine
to our race so freely given,
graces human and divine,
flowers of earth and buds of heaven,
Christ our God, to thee we raise
this our sacrifice of praise.