THE SECOND SUNDAY IN ADVENT – December 4, 2022
GLORY BE TO JESUS CHRIST! GLORY BE TO HIM FOREVER
LIVE AUDIO STREAMING during today's service is available on the Order of Service page. Recorded audio will be added following worship.
Parish Life Notes
St. Nicholas Christmas Market will be open following today's service!
Aboriginal/ Non-Aboriginal Intercultural Christmas Dinner and Potluck takes place @ St. Mary's on Wednesday December 14th starting at 5:00 p.m. in the Upper Hall. All are welcome!
A Service of Lessons and Carols for Christmas will be held on Saturday, December 17th at 7:00 p.m. This is a "guest service" to which you are encouraged to invite friends, neighbours, colleagues, and family. Invitations will be distributed in today's service.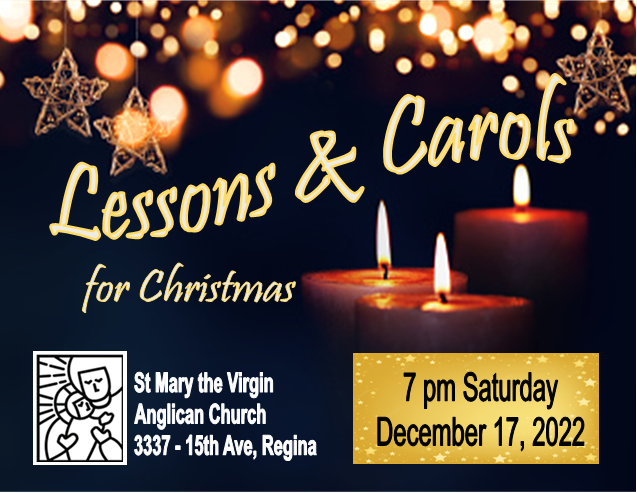 Christmas Concert featuring local musicians and performing classical repertoire will be held at St. Mary's on Wednesday, December 21 at 7.30 p.m. All are welcome and invited!
Worship This Week
Morning Prayer
Tuesday, Thursday, Friday at 8:30 am
Wednesday at 9:00 a.m.
Evening Prayer