THE FIFTH SUNDAY AFTER TRINITY
JULY 9, 2023
THE FATHER IS MY HOPE; THE SON IS MY REFUGE;
THE HOLY SPIRIT IS MY PROTECTIOR.
ALL HOLY TRINITY, GLORY TO THEE!
LIVE AUDIO STREAMING during today's service is available on the Order of Service page. Recorded audio will be added following worship.
GETTING READY FOR SUNDAY: PREVIEW OF THE READINGS.
Will we grow in the Spirit? This is our theme in the season of Trinity. During the Sundays from Trinity 3 to Trinity 9, we are attending to the practical matter of the need for the cleansing of the 'thoughts of our hearts' which is the pre-condition for spiritual growth. Having addressed the thoughts of 'pride' and 'self esteem/empty-glory' , today we consider the thought of 'sadness' or 'dejection. ' Our Epistle and Gospel reveal to us the various causes of our sadness and provides us with the remedies by which our souls are healed.
THE LESSON: 1 Peter 3:8-15
Finally, all of you, have unity of spirit, sympathy, love of the brethren, a tender heart and a humble mind. Do not return evil for evil or reviling for reviling; but on the contrary bless, for to this you have been called, that you may obtain a blessing. For "He that would love life and see good days, let him keep his tongue from evil and his lips from speaking guile; let him turn away from evil and do right; let him seek peace and pursue it. For the eyes of the Lord are upon the righteous, and his ears are open to their prayer. But the face of the Lord is against those that do evil." Now who is there to harm you if you are zealous for what is right? But even if you do suffer for righteousness' sake, you will be blessed. Have no fear of them, nor be troubled, but in your hearts reverence Christ as Lord. Always be prepared to make a defense to any one who calls you to account for the hope that is in you, yet do it with gentleness and reverence;
THE HOLY GOSPEL: Luke 5:1-11
Once while Jesus was standing beside the lake of Gennesaret, and the crowd was pressing in on him to hear the word of God, he saw two boats there at the shore of the lake; the fishermen had gone out of them and were washing their nets. He got into one of the boats, the one belonging to Simon, and asked him to put out a little way from the shore. Then he sat down and taught the crowds from the boat. When he had finished speaking, he said to Simon, 'Put out into the deep water and let down your nets for a catch.' Simon answered, 'Master, we have worked all night long but have caught nothing. Yet if you say so, I will let down the nets.' When they had done this, they caught so many fish that their nets were beginning to break. So they signalled to their partners in the other boat to come and help them. And they came and filled both boats, so that they began to sink. But when Simon Peter saw it, he fell down at Jesus' knees, saying, 'Go away from me, Lord, for I am a sinful man!' For he and all who were with him were amazed at the catch of fish that they had taken; and so also were James and John, sons of Zebedee, who were partners with Simon. Then Jesus said to Simon, 'Do not be afraid; from now on you will be catching people.' When they had brought their boats to shore, they left everything and followed him.
PARISH LIFE NOTES
NEW HORIZONS FOR SENIORS COMMUNITY KITCHEN meets Saturday from 10.00 .m. to 2:00 p.m.
ST. MARY'S COMMUNITY GARDENER is willing and able to come and help with your gardening projects! Please contact Emma.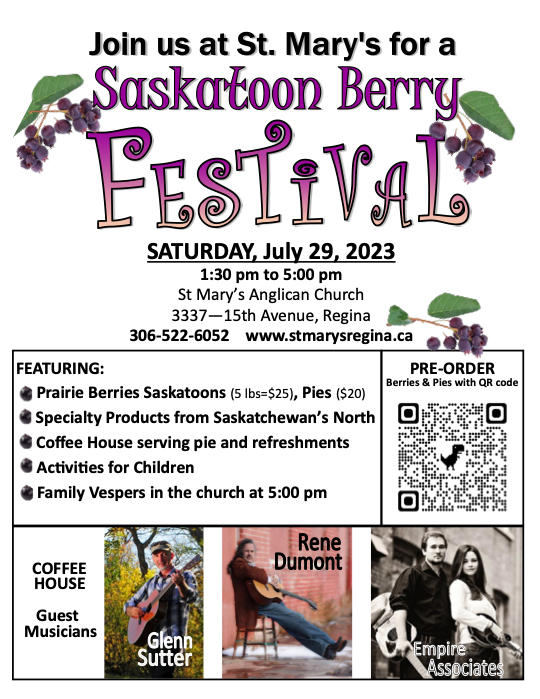 TICKETS FOR DISTRIBUTION will be available following the service today.
WORSHIP THIS WEEK
Morning Prayer: Tuesday, Thursday, and Friday at 8:30; Wednesday at 9:00 a.m.
Evening Prayer: Wednesday at 5.30 p.m.