SIXTH SUNDAY AFTER TRINITY
July 16, 2023
THE FATHER IS MY HOPE; THE SON IS MY REFUGE;
THE HOLY SPIRIT IS MY PROTECTIOR.
ALL HOLY TRINITY, GLORY TO THEE!
LIVE AUDIO STREAMING during today's service is available on the Order of Service page. Recorded audio will be added following worship.
GETTING READY FOR SUNDAY: PREVIEW OF THE READINGS.
Will we grow in the Spirit? This is our theme in the season of Trinity. During the Sundays from Trinity 3 to Trinity 9, we are attending to the practical matter of the need for the cleansing of the 'thoughts of our hearts' which is the pre-condition for spiritual growth. Having addressed the thoughts of 'pride' and 'self esteem/empty-glory' , and "sadness" today we consider the thought of 'anger ' and it's remedy, "dying to sin" and "rising to life" through the practice of mercy and forgiveness, which has been made possible for us through the grace of baptism whereby we have bene united to Jesus in His death and resurrection.
THE LESSON: Romans 6:3-11
Do you not know that all of us who have been baptized into Christ Jesus were baptized into his death? We were buried therefore with him by baptism into death, so that as Christ was raised from the dead by the glory of the Father, we too might walk in newness of life. For if we have been united with him in a death like his, we shall certainly be united with him in a resurrection like his. We know that our old self was crucified with him so that the sinful body might be destroyed, and we might no longer be enslaved to sin. For he who has died is freed from sin. But if we have died with Christ, we believe that we shall also live with him. For we know that Christ being raised from the dead will never die again; death no longer has dominion over him. The death he died he died to sin, once for all, but the life he lives he lives to God. So you also must consider yourselves dead to sin and alive to God in Christ Jesus.
THE HOLY GOSPEL: Luke 6:27-36
'But I say to you that listen, Love your enemies, do good to those who hate you, bless those who curse you, pray for those who abuse you. If anyone strikes you on the cheek, offer the other also; and from anyone who takes away your coat do not withhold even your shirt. Give to everyone who begs from you; and if anyone takes away your goods, do not ask for them again. Do to others as you would have them do to you. 'If you love those who love you, what credit is that to you? For even sinners love those who love them. If you do good to those who do good to you, what credit is that to you? For even sinners do the same. If you lend to those from whom you hope to receive, what credit is that to you? Even sinners lend to sinners, to receive as much again. But love your enemies, do good, and lend, expecting nothing in return. Your reward will be great, and you will be children of the Most High; for he is kind to the ungrateful and the wicked. Be merciful, just as your Father is merciful.
PARISH LIFE NOTES
CANADA WEST MUSIC RECITAL. This week Katie Faulkes will be traveling to Edmonton with her eldest daughter Zelda who is representing Saskatchewan in the Canada West Music Festival on violin. Zelda will be joined by her friend Mathis Chu on trombone, and their accompanist Rachel Andrist on piano for an afternoon concert at St. Mary's. Wednesday, July 19th, from 12:30-1:30pm You will be treated to a fantastic program featuring the music of Bach, Lalo, and the Canadian composer Mozetich. Please come and support these young musicians as they prepare for this amazing opportunity!
ST. MARY'S COMMUNITY GARDENER is willing and able to come and help with your gardening projects!  Talk to Emma.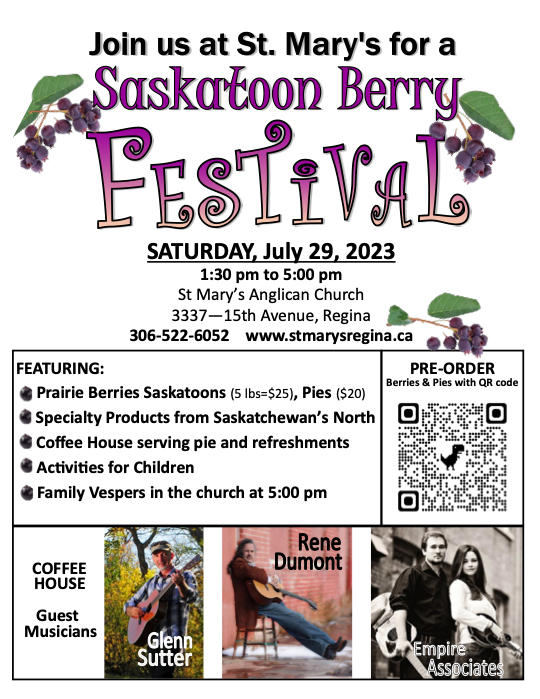 TICKETS FOR DISTRIBUTION will be available following the service today.
WORSHIP THIS WEEK
Morning Prayer: Tuesday, Thursday, and Friday at 8:30; Wednesday at 9:00 a.m.
Evening Prayer: Wednesday at 5.30 p.m.