SEVENTH SUNDAY AFTER TRINITY
July 23, 2023
THE FATHER IS MY HOPE; THE SON IS MY REFUGE; 
THE HOLY SPIRIT IS MY PROTECTIOR.
ALL HOLY TRINITY, GLORY TO THEE!
LIVE AUDIO STREAMING during today's service is available on the Order of Service page. Recorded audio will be added following worship.
GETTING READY FOR SUNDAY: PREVIEW OF THE READINGS.
Will we grow in the Spirit? This is our theme in the season of Trinity. During the Sundays from Trinity 3 to Trinity 9, we are attending to the practical matter of the need for the cleansing of the 'thoughts of our hearts' which is the pre-condition for spiritual growth. Having addressed the thoughts of 'pride' and 'self esteem/empty-glory' , 'sadness' and  'anger , todays we consider the thought of despondency and it's remedy: the standard of teaching to which we were committed in baptism, which like the seven loaves which Christ," took", "blessed", "broke", and "distributed" is able to preserve our bodies and souls unto eternal life.
THE LESSON: Romans 6 :17-23
But thanks be to God, that you who were once slaves of sin have become obedient from the heart to the standard of teaching to which you were committed, and, having been set free from sin, have become slaves of righteousness. I am speaking in human terms, because of your natural limitations. For just as you once yielded your members to impurity and to greater and greater iniquity, so now yield your members to righteousness for sanctification. When you were slaves of sin, you were free in regard to righteousness. But then what return did you get from the things of which you are now ashamed? The end of those things is death. But now that you have been set free from sin and have become slaves of God, the return you get is sanctification and its end, eternal life. For the wages of sin is death, but the free gift of God is eternal life in Christ Jesus our Lord.
THE HOLY GOSPEL: Mark 8:1-9
In those days when there was again a great crowd without anything to eat, he called his disciples and said to them, "I have compassion for the crowd, because they have been with me now for three days and have nothing to eat. If I send them away hungry to their homes, they will faint on the way—and some of them have come from a great distance.' His disciples replied, 'How can one feed these people with bread here in the desert?' He asked them, 'How many loaves do you have?' They said, 'Seven.' Then he ordered the crowd to sit down on the ground; and he took the seven loaves, and after giving thanks he broke them and gave them to his disciples to distribute; and they distributed them to the crowd. They had also a few small fish; and after blessing them, he ordered that these too should be distributed. They ate and were filled; and they took up the broken pieces left over, seven baskets full. Now there were about four thousand people. And he sent them away.
PARISH LIFE NOTES
ST. MARY'S COMMUNITY GARDENER is willing and able to come and help with your gardening projects!  Please contact Emma (emmader6@gmail.com)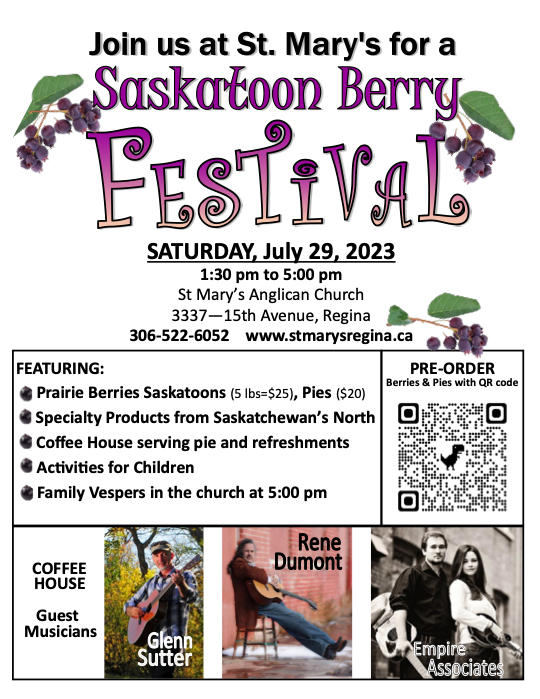 Each member of the congregation is encouraged to sell at least 10 tickets. Our goal is 1000 sales! Please share the link with your friends and family and pick up tickets after the service to sell in person.
WORSHIP THIS WEEK
Morning Prayer: Tuesday, Thursday, and Friday at 8:30; Wednesday at 9:00 a.m. 
Evening Prayer: Wednesday at 5.30 p.m.