Thirteenth Sunday after Trinity
September 3, 2023
THE FATHER IS MY HOPE; THE SON IS MY REFUGE;
THE HOLY SPIRIT IS MY PROTECTIOR.
ALL HOLY TRINITY, GLORY TO THEE!
LIVE AUDIO STREAMING during today's service is available on the Order of Service page. Recorded audio will be added following worship.
GETTING READY FOR SUNDAY: PREVIEW OF THE READINGS.
THE LESSON: Galatians 5:16-24
But I say, walk by the Spirit, and do not gratify the desires of the flesh. For the desires of the flesh are against the Spirit, and the desires of the Spirit are against the flesh; for these are opposed to each other, to prevent you from doing what you would. But if you are led by the Spirit you are not under the law. Now the works of the flesh are plain: fornication, impurity, licentiousness, idolatry, sorcery, enmity, strife, jealousy, anger, selfishness, dissension, party spirit, envy, drunkenness, carousing, and the like. I warn you, as I warned you before, that those who do such things shall not inherit the kingdom of God. But the fruit of the Spirit is love, joy, peace, patience, kindness, goodness, faithfulness, gentleness, self-control; against such there is no law. And those who belong to Christ Jesus have crucified the flesh with its passions and desires.
THE HOLY GOSPEL: Luke 10:25-37
Just then a lawyer stood up to test Jesus. 'Teacher,' he said, 'what must I do to inherit eternal life?' He said to him, 'What is written in the law? What do you read there?' He answered, 'You shall love the Lord your God with all your heart, and with all your soul, and with all your strength, and with all your mind; and your neighbour as yourself.' And he said to him, 'You have given the right answer; do this, and you will live.' But wanting to justify himself, he asked Jesus, 'And who is my neighbour?' Jesus replied, 'A man was going down from Jerusalem to Jericho, and fell into the hands of robbers, who stripped him, beat him, and went away, leaving him half dead. Now by chance a priest was going down that road; and when he saw him, he passed by on the other side. So likewise a Levite, when he came to the place and saw him, passed by on the other side. But a Samaritan while travelling came near him; and when he saw him, he was moved with pity. He went to him and bandaged his wounds, having poured oil and wine on them. Then he put him on his own animal, brought him to an inn, and took care of him. he next day he took out two denarii, gave them to the innkeeper, and said, "Take care of him; and when I come back, I will repay you whatever more you spend." Which of these three, do you think, was a neighbour to the man who fell into the hands of the robbers?' He said, 'The one who showed him mercy.' Jesus said to him, 'Go and do likewise.'
PARISH LIFE NOTES
Cathedral Neighborhood Breakfast and Clean Up. St. Mary's will be hosting breakfast on September 16 at 8.30 a.m. for the volunteers involved in cleaning up the Cathedral Neighborhood. Please speak to Deacon Christine after the service if you are able to help with shopping, setting up, cooking, or cleaning up the breakfast.
Parish Lunch and Family Meeting will take place on September 17th following the Sunday service. Please bring a salad to share as we gather to get an update from the Vestry and share news plans for the fall term.
DIOCESAN NOTES
Annual Informational Meeting of Synod will take place on September 23, 2023 at 11.00 a.m. on ZOOM. This meeting is open to all parishioners in the Diocese and will include an update of the affairs of the Diocese, and a short presentation of the current financial status of the Diocese, and will include a question and answer session. No motions or other business will be allowed at the meeting. A link to the meeting will be made available in due time.
---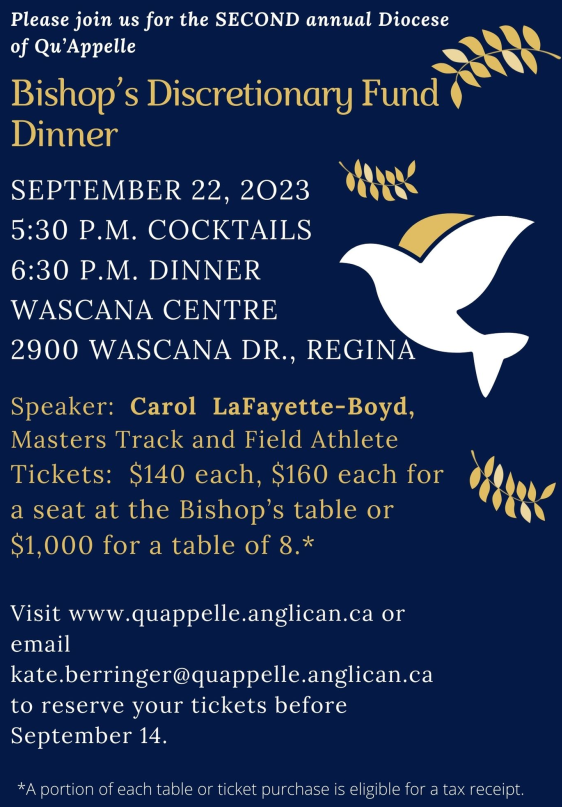 WORSHIP THIS WEEK
Morning Prayer: Tuesday, Thursday, and Friday at 8:30; Wednesday at 9:00 a.m.
Evening Prayer: Wednesday at 5.30 p.m.