Fourteenth Sunday after Trinity
September 10, 2023
THE FATHER IS MY HOPE; THE SON IS MY REFUGE;
THE HOLY SPIRIT IS MY PROTECTOR.
ALL HOLY TRINITY, GLORY TO THEE!
LIVE AUDIO STREAMING during today's service is available on the Order of Service page. Recorded audio will be added following worship.
GETTING READY FOR SUNDAY: PREVIEW OF THE READINGS.
THE LESSON: Galatians 5:25-26, 6:1-5
If we live by the Spirit, let us also walk by the Spirit. Let us have no self-conceit, no provoking of one another, no envy of one another. Brethren, if a man is overtaken in any trespass, you who are spiritual should restore him in a spirit of gentleness. Look to yourself, lest you too be tempted. Bear one another's burdens, and so fulfil the law of Christ. For if any one thinks he is something, when he is nothing, he deceives himself. But let each one test his own work, and then his reason to boast will be in himself alone and not in his neighbor. For each man will have to bear his own load.
THE HOLY GOSPEL: Luke 17:11-19
On the way to Jerusalem Jesus was going through the region between Samaria and Galilee. As he entered a village, ten lepers approached him. Keeping their distance, they called out, saying, 'Jesus, Master, have mercy on us!' When he saw them, he said to them, 'Go and show yourselves to the priests.' And as they went, they were made clean. Then one of them, when he saw that he was healed, turned back, praising God with a loud voice. He prostrated himself at Jesus' feet and thanked him. And he was a Samaritan. Then Jesus asked, 'Were not ten made clean? But the other nine, where are they? Was none of them found to return and give praise to God except this foreigner?' Then he said to him, 'Get up and go on your way; your faith has made you well.'
PARISH LIFE NOTES
St. Mary's Vestry meets today following the service in the lounge.
Cathedral Neighborhood Breakfast and Clean Up takes place this Saturday September 16 at 8.30 a.m. at St. Mary's. Big thank to those who last Sunday answered the call help with breakfast! If others are interested, please speak to Deacon Christine after the service.
Parish Lunch and Family Meeting will take place next Sunday September 17thfollowing the Sunday service. Please bring finger food to share as we gather to get an update from the Vestry , share stories of God's grace and plans for the fall term.
All Ages Pot Luck Supper and House Concert – hosted by Claude and Hilary- will take place on Saturday, September 30th in their backyard from 5.30 – 8.30 p.m. Please bring a supper dish to share, lawn chair and/or blanket. Admission is $10.00, children are free. RSVP to stmarysanglican@sasktel.net
DIOCESAN NOTES
Annual Informational Meeting of Synod will take place on September 23, 2023 at 11.00 a.m. on ZOOM. This meeting is open to all parishioners in the Diocese and will include an update of the affairs of the Diocese, and a short presentation of the current financial status of the Diocese, and will include a question and answer session. No motions or other business will be allowed at the meeting. A link to the meeting will be made available in due time.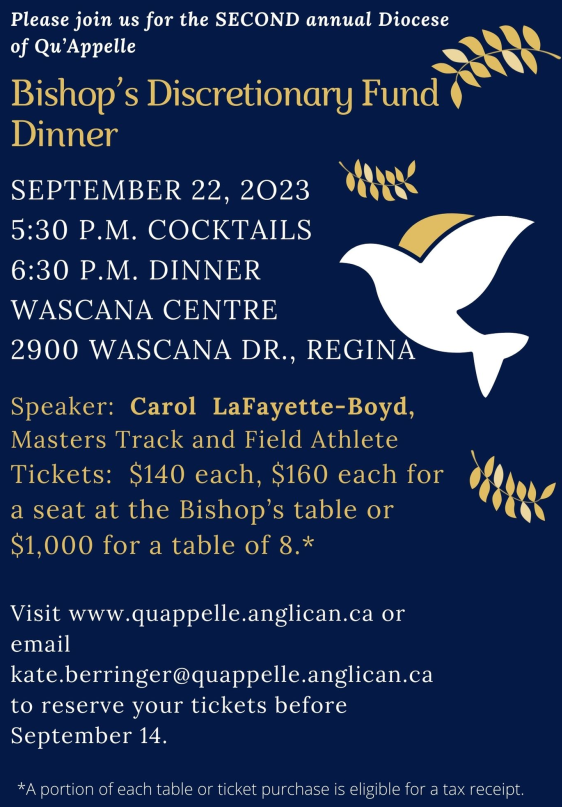 COMMUNITY NOTES
Prairie Kids Chorus at the Conservatory of Performing Arts is training choir for budding singers aged 5 to 12 years. Rehearsals are on Monday evenings at the College Avenue Campus. Directed by Allison Luff and Valerie Hall, repertoire covers a multitude of styles and genres. No previous singing experience is required. For more information, please consult their website at > this link<.
WORSHIP THIS WEEK
Morning Prayer: Tuesday, Thursday, and Friday at 8:30; Wednesday at 9:00 a.m.
Evening Prayer: Wednesday at 5.30 p.m.