TWENTY THIRD SUNDAY AFTER TRINITY
November 12, 2023
THE FATHER IS MY HOPE; THE SON IS MY REFUGE;
THE HOLY SPIRIT IS MY PROTECTIOR.
ALL HOLY TRINITY, GLORY TO THEE!
LIVE AUDIO STREAMING during today's service is available on the Order of Service page. Recorded audio will be added following worship.
GETTING READY FOR SUNDAY: PREVIEW OF THE READINGS.
THE LESSON: Philippians 3:17-21
Brethren, join in imitating me, and mark those who so live as you have an example in us. For many, of whom I have often told you and now tell you even with tears, live as enemies of the cross of Christ. Their end is destruction, their god is the belly, and they glory in their shame, with minds set on earthly things. But our commonwealth is in heaven, and from it we await a Savior, the Lord Jesus Christ, who will change our lowly body to be like his glorious body, by the power which enables him even to subject all things to himself.
THE HOLY GOSPEL: Matthew 22:15-22
Then the Pharisees went and plotted to entrap him in what he said. So they sent their disciples to him, along with the Herodians, saying, 'Teacher, we know that you are sincere, and teach the way of God in accordance with truth, and show deference to no one; for you do not regard people with partiality. Tell us, then, what you think. Is it lawful to pay taxes to the emperor, or not?' But Jesus, aware of their malice, said, 'Why are you putting me to the test, you hypocrites? Show me the coin used for the tax.' And they brought him a denarius. Then he said to them, 'Whose head is this, and whose title?' They answered, 'The emperor's.' Then he said to them, 'Give therefore to the emperor the things that are the emperor's, and to God the things that are God's.' When they heard this, they were amazed; and they left him and went away.
PARISH LIFE NOTES
FUNERAL SERVICE for Dorothy Brodland was held yesterday at St. Mary's. May she rest in peace and rise in glory!
STEWARDSHIP/ PLEDGE CAMPAIGN. A letter from the Churchwardens and 2024 pledge form will be distributed after worship today, or mailed out this week.
RECTOR'S FORUM. In light of our recent celebration of All Saints and All Souls, and our Remembrance Day commemorations, today we will have a Death Café in which we will explore the Christian hope in the face of death, and how it is that we can continue to relate and pray for our departed loved ones.
PRAYER CHAIN. Do you have a special need for prayer for a situation in your life?  St. Mary's has a prayer chain consisting of dedicated parishioners who believe in the power of Jesus and who will pray for you.  To initiate prayer, please call Ann.
CELEBRATING ST. NICHOLAS on DECEMBER 9. Mark your calendars and help spread the word! Volunteers will be needed to help set up, bake, serve, cook, and work with the children. Section leads will be in touch!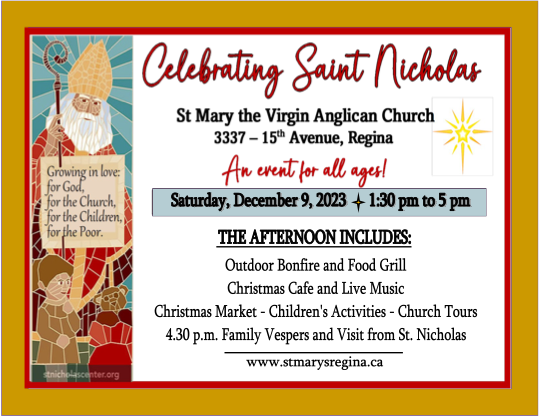 WORSHIP THIS WEEK
Morning Prayer:
Tuesday, Thursday, and Friday at 8:30
Wednesday at 9:00 a.m.
Evening Prayer: