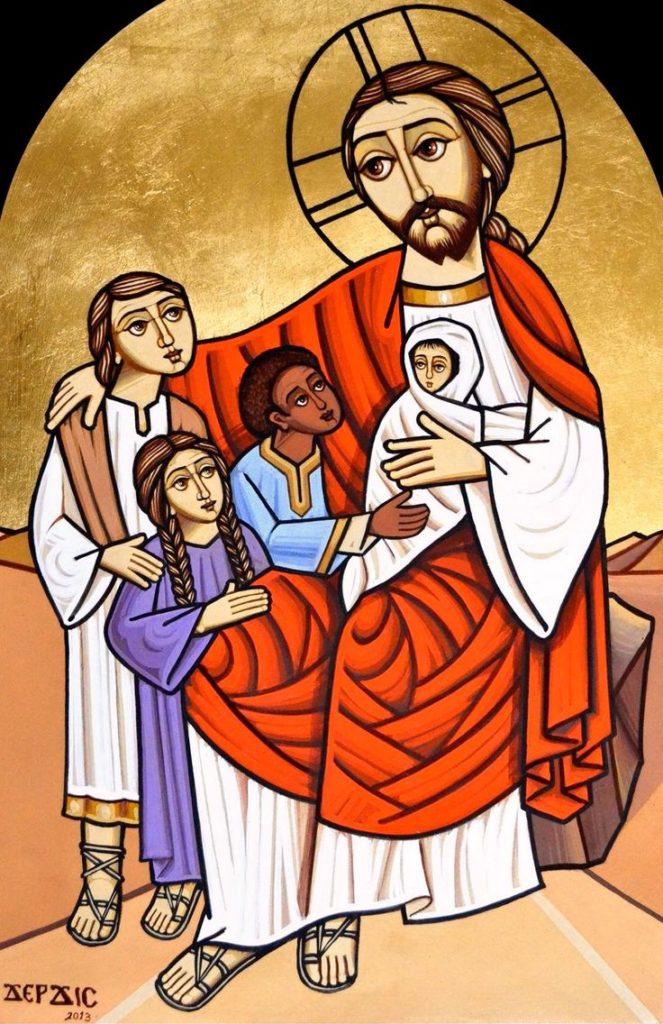 THE ORDER OF SERVICE FOR MORNING PRAYER
According to The Book of Common Prayer
Opening Hymn: Thou Whose Almighty Word
Thou, whose almighty word
chaos and darkness heard,
and took their flight;
hear us, we humbly pray,
and, where the Gospel day
sheds not its glorious ray,
let there be light!

Thou who didst come to bring
on thy redeeming wing
healing and sight,
heal to the sick in mind,
sight to the in-ly blind,
now to all humankind,
let there be light!

Spirit of truth and love,
life-giving holy Dove,
speed forth thy flight!
Move on the waters' face
bearing the gifts of grace,
and, in earth's darkest place,
let there be light!

Holy and blessèd Three,
glorious Trinity,
Wisdom, Love, Might;
boundless as ocean's tide,
rolling in fullest pride,
through the world far and wide,
let there be light!
Sentences of Scripture.
O let the nations rejoice and be glad; for thou shalt judge the folk righteously, and govern the nations upon earth.
Psalm 67. 4.
Thus saith the high and lofty One that inhabiteth eternity, whose name is Holy: I dwell in the high and holy place, with him also that is of a contrite and humble spirit.
Isaiah 57. 15.
The Minister,
DEARLY beloved brethren, the Scripture moveth us in sundry places to acknowledge and confess our manifold sins and wickedness; and that we should not dissemble nor cloke them before the face of Almighty God our heavenly Father; but confess them with an humble, lowly, penitent, and obedient heart; to the end that we may obtain forgiveness of the same, by his infinite goodness and mercy. And although we ought at all times humbly to acknowledge our sins before God; yet ought we most chiefly so to do, when we assemble and meet together to render thanks for the great benefits that we have received at his hands, to set forth his most worthy praise, to hear his most holy Word, and to ask those things which are requisite and necessary, as well for the body as the soul. Wherefore I pray and beseech you, as many as are here present, to accompany me with a pure heart and humble voice unto the throne of the heavenly grace.
ALMIGHTY and most merciful Father, We have erred and strayed from thy ways like lost sheep, We have followed too much the devices and desires of our own hearts, We have offended against thy holy laws, We have left undone those things which we ought to have done, And we have done those things which we ought not to have done; And there is no health in us. But thou, O Lord, have mercy upon us, miserable offenders. Spare thou them, O God, which confess their faults. Restore thou them that are penitent; According to thy promises declared unto mankind in Christ Jesu our Lord. And grant, O most merciful Father, for his sake, That we may hereafter live a godly, righteous, and sober life, To the glory of thy holy Name. Amen.
For Pardon through the Cross.
ALMIGHTY Father, who of thy great love to men didst give thy dearly beloved Son to die for us; Grant that through his Cross our sins may be put away, and remembered no more against us, and that, cleansed by his Blood, and mindful of his sufferings, we may take up our cross daily, and follow him in newness of life, until we come to his everlasting kingdom; through the same thy Son Jesus Christ our Lord. Amen.
OUR Father who art in heaven, Hallowed be thy Name, Thy kingdom come, Thy will be done, on earth as it is in heaven. Give us this day our daily bread; And forgive us our trespasses, As we forgive them that trespass against us; And lead us not into temptation, But deliver us from evil. For thine is the kingdom, the power, and the glory, For ever and ever. Amen.
O Lord, open thou our lips;
And our mouth shall show forth thy praise
O God, make speed to save us;
O Lord, make haste to help us
GLORY be to the Father, and to the Son, and to the Holy Ghost;
As it was in the beginning, is now, and ever shall be, world without end. Amen.
Praise ye the Lord;The Lord's Name be praised.
VENITE EXULTEMUS DOMINO. PSALM 95
O COME, let us sing unto the LORD: / let us heartily rejoice in the strength of our salvation.
Let us come before his presence with thanksgiving, / and show ourselves glad in him with psalms.
For the LORD is a great God, / and a great King above all gods.
In his hand are all the corners of the earth: / and the strength of the hills is his also.
The sea is his, and he made it: / and his hands prepared the dry land.
O COME, let us worship, and fall down, / and kneel before the LORD our Maker.
For he is the Lord our God; / and we are the people of his pasture, and the sheep of his hand.
GLORY be to the Father, and to the Son, / and to the Holy Ghost;
As it was in the beginning, is now, and ever shall be, / world without end. Amen.
THE FIRST LESSON: Zechariah 9:9-12
9 Rejoice greatly, O daughter Zion! Shout aloud, O daughter Jerusalem! Lo, your king comes to you; triumphant and victorious is he, humble and riding on a donkey, on a colt, the foal of a donkey. 10 He will cut off the chariot from Ephraim and the war-horse from Jerusalem; and the battle bow shall be cut off, and he shall command peace to the nations; his dominion shall be from sea to sea, and from the River to the ends of the earth. 11 As for you also, because of the blood of my covenant with you, I will set your prisoners free from the waterless pit. 12 Return to your stronghold, O prisoners of hope; today I declare that I will restore to you double.
PSALM 145. 8-15
THE LORD is gracious and merciful, / longsuffering, and of great kindness.
The LORD is loving unto all: / and his mercies are over all his works.
All thy works praise thee, O LORD, / and thy saints give thanks unto thee.
They show the glory of thy kingdom, / and talk of thy power;
That thy power, thy glory, and the mightiness of thy kingdom / might be known unto men.
Thy kingdom is an everlasting kingdom, / and thy dominion endureth throughout all ages.
THE LORD is faithful in all his words, / and gracious in all his deeds.
The LORD upholdeth all such as fall, / and lifteth up all those that are down.
Second Reading: Romans 7:15-25a
15 I do not understand my own actions. For I do not do what I want, but I do the very thing I hate. 16 Now if I do what I do not want, I agree that the law is good. 17 But in fact it is no longer I that do it, but sin that dwells within me. 18 For I know that nothing good dwells within me, that is, in my flesh. I can will what is right, but I cannot do it. 19 For I do not do the good I want, but the evil I do not want is what I do. 20 Now if I do what I do not want, it is no longer I that do it, but sin that dwells within me. 21 So I find it to be a law that when I want to do what is good, evil lies close at hand. 22 For I delight in the law of God in my inmost self, 23 but I see in my members another law at war with the law of my mind, making me captive to the law of sin that dwells in my members. 24 Wretched man that I am! Who will rescue me from this body of death? 25 Thanks be to God through Jesus Christ our Lord! So then, with my mind I am a slave to the law of God, but with my flesh I am a slave to the law of sin.
Hymn: Fairest Lord Jesus.
Fairest Lord Jesus, Ruler of all nature,
O Thou of God and man the Son,
Thee will I cherish, Thee will I honor,
Thou, my soul's glory, joy and crown.
Fair are the meadows, fairer still the woodlands,
Robed in the blooming garb of spring;
Jesus is fairer, Jesus is purer,
He makes the saddest heart to sing.
Fair is the sunshine, fairer still the moonlight,
And all the twinkling starry host;
Jesus shines brighter, Jesus shines purer
Than all the stars heav'n can boast.
THE HOLY GOSPEL: Matthew 11:16-19, 25-30
R./ Glory be to Thee, O Lord.
16 "But to what will I compare this generation? It is like children sitting in the marketplaces and calling to one another, 17 "We played the flute for you, and you did not dance; we wailed, and you did not mourn.' 18 For John came neither eating nor drinking, and they say, "He has a demon'; 19 the Son of Man came eating and drinking, and they say, "Look, a glutton and a drunkard, a friend of tax collectors and sinners!' Yet wisdom is vindicated by her deeds." 25 At that time Jesus said, "I thank you, Father, Lord of heaven and earth, because you have hidden these things from the wise and the intelligent and have revealed them to infants; 26 yes, Father, for such was your gracious will. 27 All things have been handed over to me by my Father; and no one knows the Son except the Father, and no one knows the Father except the Son and anyone to whom the Son chooses to reveal him. 28 "Come to me, all you that are weary and are carrying heavy burdens, and I will give you rest. 29 Take my yoke upon you, and learn from me; for I am gentle and humble in heart, and you will find rest for your souls. 30 For my yoke is easy, and my burden is light."
R./ Praise be to thee, O Christ.
BENEDICTUS. ST LUKE 1:68
BLESSED be the Lord God of Israel; / for he hath visited and redeemed his people;
And hath raised up a mighty salvation for us, / in the house of his servant David;
As he spake by the mouth of his holy Prophets, / which have been since the world began;
That we should be saved from our enemies, / and from the hands of all that hate us;
To perform the mercy promised to our forefathers, / and to remember his holy covenant;
To perform the oath which he sware to our forefather Abraham, / that he would grant us
That we being delivered out of the hands of our enemies / might serve him without fear,
In holiness and righteousness before him, / all the days of our life.
AND thou, child, shalt be called the Prophet of the Highest: / for thou shalt go before the face of the Lord to prepare his ways;
To give knowledge of salvation unto his people / for the remission of their sins;
Through the tender mercy of our God; / whereby the day-spring from on high hath visited us;
To give light to them that sit in darkness, and in the shadow of death, / and to guide our feet into the way of peace.
GLORY be to the Father, and to the Son, / and to the Holy Ghost;
As it was in the beginning, is now, and ever shall be, / world without end. Amen.
Then shall be said or sung the Confession of the Faith, called the Apostles' Creed.
I BELIEVE in God the Father Almighty, Maker of heaven and earth:
And in Jesus Christ his only Son our Lord, Who was conceived by the Holy Ghost, Born of the Virgin Mary, Suffered under Pontius Pilate, Was crucified, dead, and buried: He descended into hell; The third day he rose again from the dead; He ascended into heaven, And sitteth on the right hand of God the Father Almighty; From thence he shall come to judge the quick and the dead.
I believe in the Holy Ghost; The holy Catholic Church; The Communion of Saints; The Forgiveness of sins; The Resurrection of the body, And the Life everlasting. Amen.
And after the Creed these prayers following, the Minister first pronouncing:
The Lord be with you;
And with thy spirit.
Let us pray.
Lord, have mercy upon us.
Christ, have mercy upon us.
Lord, have mercy upon us.
OUR Father who art in heaven, Hallowed be thy Name, Thy kingdom come, Thy will be done, on earth as it is in heaven. Give us this day our daily bread; And forgive us our trespasses, As we forgive them that trespass against us; And lead us not into temptation, But deliver us from evil. Amen.
O Lord, show thy mercy upon us;
And grant us thy salvation.
O Lord, save the Queen;
And mercifully hear us when we call upon thee.
Endue thy Ministers with righteousness;
And make thy chosen people joyful.
O Lord, save thy people;
And bless thine inheritance.
Give peace in our time, O Lord;
And evermore mightily defend us.
O God, make clean our hearts within us;
And take not thy Holy Spirit from us.
The Collect for the Fourth Sunday after Trinity.
O GOD, the protector of all that trust in thee, without whom nothing is strong, nothing is holy: Increase and multiply upon us thy mercy; that, thou being our ruler and guide, we may so pass through things temporal, that we finally lose not the things eternal. Grant this, O heavenly Father, for Jesus Christ's sake our Lord. Amen.
The Second Collect, for Peace.
O GOD, who art the author of peace and lover of concord, in knowledge of whom standeth our eternal life, whose service is perfect freedom: Defend us thy humble servants in all assaults of our enemies; that we, surely trusting in thy defence, may not fear the power of any adversaries; through the might of Jesus Christ our Lord. Amen.
The Third Collect, for Grace.
O LORD our heavenly Father, Almighty and everlasting God, who hast safely brought us to the beginning of this day: Defend us in the same with thy mighty power; and grant that this day we fall into no sin, neither run into any kind of danger; but that all our doings may be ordered by thy governance, to do always that is righteous in thy sight; through Jesus Christ our Lord. Amen.
A Prayer for the Clergy and People.
ALMIGHTY and everlasting God, from whom cometh every good and perfect gift: Send down upon our Bishops and Clergy, and all Congregations committed to their charge, the healthful Spirit of thy grace; and that they may truly please thee, pour upon them the continual dew of thy blessing. Grant this, O Lord, for the honour of our Advocate and Mediator, Jesus Christ. Amen.
HYMN: Lord Thy Word Abideth
LORD, thy word abideth,
And our footsteps guideth;
Who its truth believeth,
Light and joy receiveth.
When our foes are near us,
Then thy word doth cheer us,
Word of consolation,
Message of salvation.
When the storms are o'er us,
And dark clouds before us,
Then its light directeth,
And our way protecteth.
Who can tell the pleasure,
Who recount the treasure
By thy word imparted
To the simple-hearted?
Word of mercy, giving
Succour to the living;
Word of life, supplying
Comfort to the dying.
O that we discerning
Its most holy learning,
Lord, may love and fear thee,
Evermore be near thee!
The Sermon – Revd. Nathaniel Deng Mayen
A Prayer for all Conditions of men.
O GOD, the Creator and Preserver of all mankind, we humbly beseech thee for all sorts and conditions of men; that thou wouldest be pleased to make thy ways known unto them, thy saving health unto all nations. More especially we pray for the good estate of the Catholic Church; that it may be so guided and governed by thy good Spirit, that all who profess and call themselves Christians may be led into the way of truth, and hold the faith in unity of spirit, in the bond of peace, and in righteousness of life. Finally we commend to thy fatherly goodness all those, who are any ways afflicted or distressed in mind, body, or estate; [* especially those for whom our prayers are desired;] that it may please thee to comfort and relieve them, according to their several necessities, giving them patience under their sufferings, and a happy issue out of all their afflictions. And this we beg for Jesus Christ his sake. Amen.
For our National Heritage.
ALMIGHTY and merciful God, who in thy wisdom dost divide to the nations their inheritance: We yield thee hearty thanks for thy loving-kindness in appointing this good land of Canada to be our dwelling-place among the children of men; for the wealth and glory of its plains and mountains, its fruitful fields and teeming waters; for the precious things of heaven, the dew, the sunshine, snow and rain in their season, and the precious things of the earth and the fulness thereof; for a land wherein there is bread without scarceness. For all this, and the opportunities thus vouchsafed to us, we bless thee and magnify thy Name. And, we pray thee, grant us grace so to sanctify thee in our heritage that the world may know that thou art our God for ever and ever; through Jesus Christ our Lord. Amen.
A Prayer of Saint Chrysostom.
ALMIGHTY God, who hast given us grace at this time with one accord to make our common supplications unto thee; and dost promise that when two or three are gathered together in thy Name thou wilt grant their requests: Fulfil now, O Lord, the desires and petitions of thy servants, as may be most expedient for them; granting us in this world knowledge of thy truth, and in the world to come life everlasting. Amen.
2 Corinthians 13:14.
THE grace of our Lord Jesus Christ, and the love of God, and the fellowship of the Holy Ghost, be with us all evermore. Amen.
The Hymn: Guide me O Thou Great Jehovah
Guide me, O Thou great Jehovah
Pilgrim through this barren land;
I am weak, but Thou art mighty,
Hold me with Thy pow'rful hand.
Bread of heaven, Bread of heaven,
Feed me till I want no more;
Feed me till I want no more.
Open now the crystal fountain,
Whence the healing stream doth flow;
Let the fire and cloudy pillar
Lead me all my journey through.
Strong Deliv'rer, strong Deliv'rer,
Be Thou still my Strength and Shield;
Be Thou still my Strength and Shield.
When I tread the verge of Jordan,
Bid my anxious fears subside;
Bear me thro' the swelling tide;
Land me safe on Canaan's side.
Songs of praises, songs of praises,
I will ever give to Thee;
I will ever give to Thee.